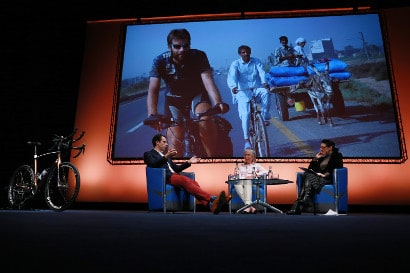 Last week, adventurer and broadcaster Mark Beaumont, along with his mother and manager, Una took to the stage in the EICC to talk about his latest journey cycling around the world in 80 days – and it was a roaring success.
When we started the Innovation Nation series two years ago, we never thought that we would reach sold out status in one of our biggest auditoriums.
Our aim was to be a platform for ideas that change the world – one that has evolved to become the EICC's overall mission.
Mark Beaumont, however, is a bit special. He's an example for all of us, whether you're a big fan of cycling or not. The 34-year-old cyclist pushes himself to his limits to achieve his goals and has broken world records numerous times. His most recent adventure was cycling around the world – for the second time. He set out to complete it in 80 days, a la Jules Verne, but managed it in just 78. An amazing feat.
His motto is: "You're never better than what you set out to do" – which is perhaps another way of saying dream big.
Up on stage with his mother Una, and host Clare English, and of course the bike he rode around the world (only 6 months old and has already done 20,000 miles) Mark took us through what it takes to be a record-breaking cyclist, where his passion for cycling comes from, and his true grit. 
He also dispelled the romantic notion that expeditions involve adventurers setting off just to see what they can do – his are very carefully and meticulously planned, and he relies on a strong support network. All his expeditions either are "bang on target, or they fail. And," he noted, "they do fail."
Failure is not a particularly inspiring notion, but it's something we all feel, in big and small ways. It's what we do after we fail that really counts.
As Mark noted, he has had his fair share of failure; his team's rowboat capsized during its 500-mile journey to reach the ice caps in the North Pole. Out of his comfort zone and new to boating, Mark notes it was gruelling and upsetting when the boat tipped over, but he didn't let it faze him.
"I'm the sort of person who gets stuck in. It was disorientating for me to see people just breaking down or withdrawing," he said.
For Mark, it's not just about your skillset. Your ability to succeed depends on your mind-set, and your attitude.
"We can all go beyond our technical ability," he insisted. "We can all do what we set out to do."
It's inspiring words – and it does make you think how you can apply it to your own life, work and passions.
At the EICC, we employ the tactic "marginal gains" which also comes from the cycling world. The idea is that small changes add up and can have a big affect. Every day is different at the EICC, and while we have every confidence in our technical ability to host VIP events, it's our mind-set that we're most proud of.  
One of the most extraordinary takeaways from the evening was that Mark didn't attend school until he was 12 years old! Instead, he spent his time working on his family farm and skiing – as well as being home schooled.
For such a famous cyclist, it's amazing to hear that he wasn't that serious about it until he was in his 20s. Although, Una mentioned that he had expressed a desire to cycle from John O'Groats to Land's End at the age of ten.
It wasn't just Mark that pushed himself. His mother Una, who was also on stage, runs his expeditions and he refers to her as "Basecamp" – but when he turned pro, after his first cycle around the world, he asked his mother to run the practical side of the adventures, from visas to mechanics. This was very new for Una, she had to learn how to open a laptop and send an email! As Mark says, it's a mind-set rather than a skill.
After university, Mark was all set to go into finance, which may surprise people. No doubt he would have been as successful in another industry, but it would have been a shame for all of us!
It is very easy to just follow the path set in front of you by other people, but Mark emphasises the importance of choosing your own path and making your own journey and empowering young people. In Scotland, next year is the Year of Young People 2018, and that's a passion we share too. We partnered with Edinburgh Napier earlier this year for a MSc in Business Event Management and the first students came to the EICC this autumn. We're delighted to support them through their career journey.
One of the other interesting things Mark touched upon was the importance of social media. "It's absolutely fabulous to take people with you on a journey," he said. The rise of social media started just as he was on his first few expeditions, and while he said he thought it was a waste of time at first, it's now an essential way of communicating – because no one can exist in a vacuum.
We can't wait to see what he'll do next!