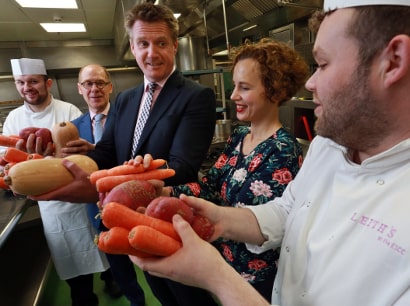 EICC and its hospitality and catering providers Leith's have signed up to the 'Scottish food and drink pledge', becoming Scotland's first conference venue and one of the first organisations to make a commitment to working with its various food and drink partners to ensure the use of authentic, sustainable Scottish produce where possible.  The EICC is one of the first Scottish businesses to sign up to the pledge, along with Edinburgh Airport and NorthLink Ferries.  The Scottish Business Awards, featuring special guest speaker George Clooney, became the first EICC-held event to endorse the pledge when the awards took place at the venue on Thursday 12 November 2015.
The EICC's Chief Executive, Marshall Dallas, said: "The quality of our food and beverages is an important part of the EICC's success and through our long-standing partnership with Leith's we think what we are able to offer is right up there with the very best.  We also pride ourselves on being one of the most sustainable venues on the domestic and international stage so we're really pleased to be one of the first businesses to sign up to the Scottish food and drink pledge.  It squares well with our ethos and makes a great deal of business sense in the 21st century where our clients and delegates have an expectation that commitment to sustainability will be a given."
Adrian Wade, General Manager of Leith's at the EICC, said: "Leith's is committed to delivering a first class service and we are thrilled that distinguished guests had the opportunity to experience EICC's first 'pledge friendly' menu at the Scottish Business Awards. As the long-standing catering and hospitality partner at EICC, we pride ourselves in being a supporter of Scotland's larder, showcasing the best in sustainable regional produce and delivering to guests a classic cuisine that is cooked simply, yet served elegantly."
Scotland Food & Drink Project Manager Fiona Richmond comments, "We welcome the launch of the Scottish food and drink pledge during the Year of Food and Drink. Scotland offers a fantastic larder of quality products that make us a Land of Food and Drink while the pledge provides a framework through which to work with retail and foodservice across the country to source authentic, sustainable Scottish ingredients to improve their offering. It's key to communicate the strength and scale of the local sourcing to the consumer and implement best practice across the business' operations. The EICC's efforts to source Scottish products are a great example of using local produce to great effect across their offering. They should be recognised for this ethos and practice across their business."
Cabinet Secretary for Rural Affairs, Food and Environment, Richard Lochhead, said: "I'd like to congratulate the EICC on their commitment to sourcing sustainable Scottish produce for visitors to the venue.
"Scotland is a country well known across the world as being a Land of Food and Drink, with a fantastic natural larder and a stellar reputation for quality produce. It's great that prominent visitors from around the world, including George Clooney, enjoy the very best of that. I want to see more companies, organisations, retailers and consumers following suit and taking advantage of the outstanding offerings we have available to us on our doorstep. This pledge is particularly fitting during the Year of Food and Drink as Scotland moves towards becoming a Good Food Nation."