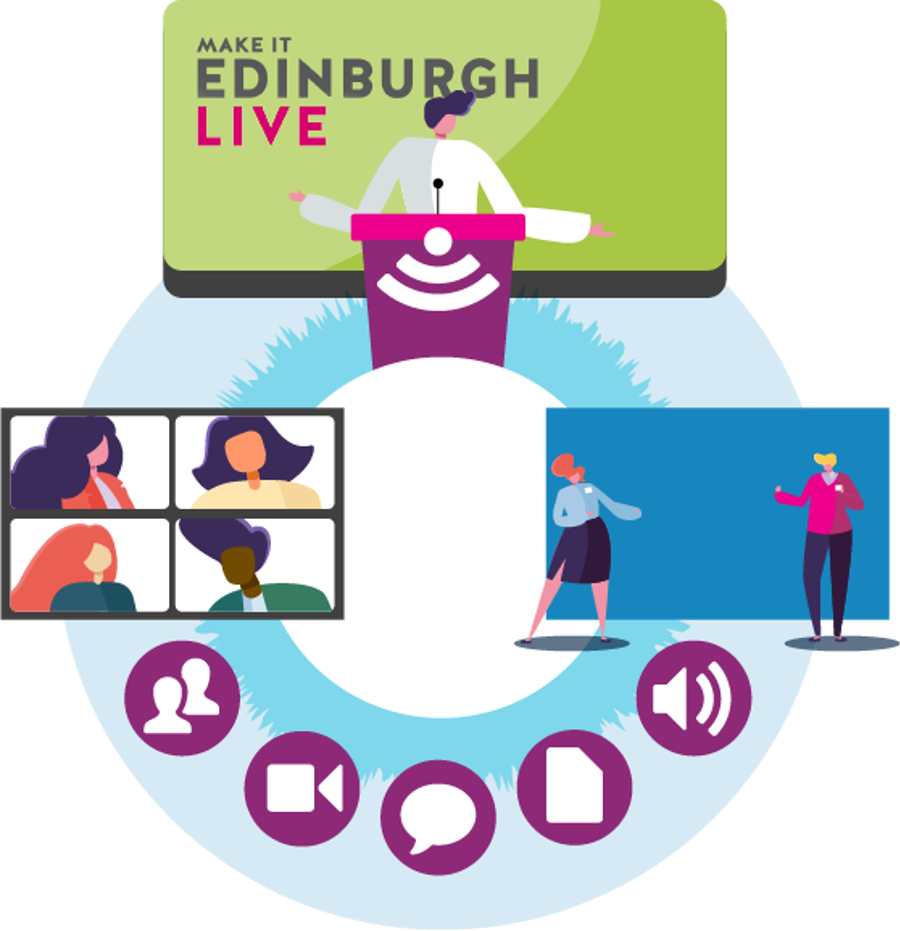 We believe that conferences have the capacity to spark ideas, drive progression, and change the world for the better. In our ever-changing world, this power cannot be put on hold. We're very proud to introduce Make It Edinburgh Live, a hybrid events solution that is designed to flex to fit your needs, and to keep ideas thriving.
When the EICC closed its doors to the public in March, we knew we needed to find a way to continue delivering events for our clients, regardless of physical distance. The goal was to put together a service that would answer concerns over how and where the event will be held, allowing our clients to focus on the planning of their event.
Make It Edinburgh Live is a hybrid events solution which provides the most productive, authentic and immersive event experience possible. Marshall Dallas, EICC CEO, said: "Following extensive and ongoing dialogue with our client base, including over one hundred UK and international associations and companies, what we've discovered is there is still strong demand for conferences and events taking place. So we're very pleased to have launched our new hybrid model for holding events partially or fully online." The split of those attending online or in-person is flexible and can be adjusted right up until the event, in case of changing health and safety guidelines.
This is more than simply a live-streamed event - it has been designed with the aim of fostering the same meaningful interactions and connections that can be found at an in-person event. As well as presentations and plenary sessions, there are opportunities for audience participation, and for delegates to break into smaller groups for meetings and discussion. Alongside this, attendees are able to enter networking spaces divided by subject matter, and there is a virtual green room for speakers to prepare and liaise with the stage managers. There are also opportunities to integrate sponsors and exhibitors who would normally be in attendance - a vital element of events for many of our clients.
Our hybrid event solutions have been designed with the aim of fostering the same meaningful interactions and connections that can be found at an in-person event.
Picking the best tools while remaining flexible
Richard Lloyd is Technical and ICT Operations Manager here at EICC, and he has played an integral role in the development of Make It Edinburgh Live. "I was responsible for translating things we do in a real-world events environment into a hybrid one," explains Richard. "Part of that was to look at the products and services already on the marketplace, test those and decide which would best fit the needs of our clients."
Every event is unique, so the solution offers a number of different packages with services, which can be tailored to fit the needs of the individual event. The event can be partially broadcast from the EICC's facilities, with the required health, safety, and social distancing procedures to protect everyone involved on site. Many clients have certain services already in place, such as polling systems, and these can all be integrated. "This is part of what makes our service unique," says Richard. "We didn't want to be in a closed environment, forcing a client to take every piece of the service. If they already have a piece of the puzzle, then we can integrate it."
"We didn't want to be in a closed environment, forcing a client to take every piece of our service. If they already have a piece of the puzzle, we can integrate it."
Make It Edinburgh Live was launched on Thursday 21 May, and the EICC team supported Street Soccer with their online Gala Dinner at Home, just over a week later, on Saturday 30 May. The event was a huge success, and with a turnaround time of only ten days from the initial conversation with the client, it was a real testament to the skill and adaptability of our staff.
---
"We are event professionals, and the fact that the event is taking place online doesn't change the input we have into making it a success. The professionalism of our crew shows time and time again that it's the people that make an event successful - whilst the technology is fantastic, the experts at the EICC are what really bring an event to life."
A new outlook and new opportunities for event organisers
Of course, remote participation in events is not a new idea. However, it has typically only applied to a small percentage of people who were unable to attend for logistical reasons. Against the backdrop of a pandemic, in some cases, 100% of an event will be happening online. Richard believes that the rapid development of this kind of technology may change the shape of the industry going forward. "It has opened up opportunities for clients," says Richard, "because theoretically there's no limit to the number of people who could attend. Local events can potentially become a more globally attractive acquisition.
"A lot of clients who would have been thinking about offering something like this may have in the past felt that it was too daunting or too expensive," he continues. "I think now people will be more willing to look at this as an opportunity - a chance to open it up and deliver something a bit different."
To speak to a member of our team about how your event could work in a hybrid format, please call +44 (0) 0131 300 3000 or contact [email protected].