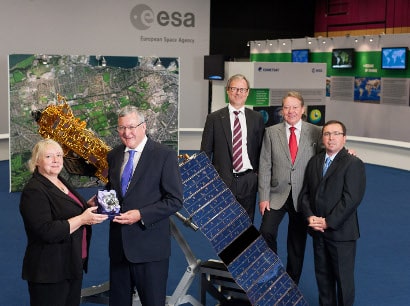 Edinburgh International Conference Centre (EICC) has welcomed its one millionth delegate at the European Space Agency's (ESA) Living Planet Symposium (9-13 September, 2013).
1,800 delegates attended the Living Planet Symposium which brought together scientists and users from across the globe to present their latest findings on Earth's environment and climate derived from satellite data. The five-day symposium was supported by the UK Space Agency.
Accepting a specially engraved Scottish Quaich (welcome drinking cup) to mark the one millionth EICC delegate Philippa Berry, Professor of Altimetric Engineering at the University of Newcastle said: "I am both surprised and delighted to accept this Quaich. My academic career began in Scotland when I was the first woman to gain a degree in astronomy from the University of St Andrews and coming back here is always special".
EICC's Chief Executive Hans H Rissmann OBE added: "We are delighted that our one millionth delegate is someone attending this ESA Symposium. There can be no greater endeavour than work to safeguard the future of our planet and playing our part in making this and every event at EICC a success is what we will always strive to achieve".
Commenting on this business tourism milestone for EICC and Scotland the Scottish Government's Minister for Energy, Enterprise and Tourism, Fergus Ewing said: "Business tourism is a crucial sector of the Scottish tourism industry. For the EICC to have attracted one million business tourists to Scotland is a major achievement and I congratulate them. These high numbers of visitors bring economic benefits to the area and provide an opportunity for international delegates to interact with like-minded Scottish businesses and academic institutions."
It is estimated that the ESA Symposium will deliver an economic impact of almost £3.9m to Edinburgh and Scotland.
In May 2013, EICC opened a new £30m expansion space including the world's first hall wide moving floor system that is defining city centre conferences and events for the new era.