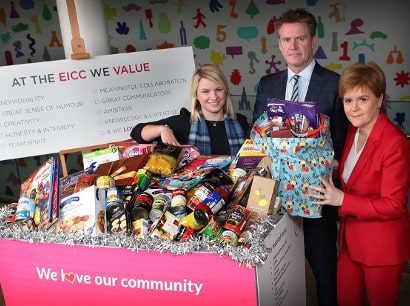 Edinburgh, 30 November 2018
The Edinburgh International Conference Centre (EICC) has launched large scale food collection units at the venue on St Andrew's Day #MakeSomeonesDay initiative.  In partnership with Edinburgh Food Project, part of the Trussell Trust network of food banks providing emergency food parcels to people living in food poverty, the moveable foodbank collection units at the EICC will see the venue become one of the city's main food donation points. 
The initiative was launched on 30th November, St Andrew's Day, and the beginning of the Festive season with First Minister of Scotland, Nicola Sturgeon. 
First Minister Nicola Sturgeon said: "This St Andrew's Day we can all use our national day to do something small but significant as part of the #MakeSomeonesDay campaign. If each of us does something kind for another, together we can make a big, positive impact for the benefit of the whole of Scotland.  The EICC's local food collection points are an excellent example of giving back to the community and I was delighted to be able to make a donation when I was there on St Andrew's Day."
Marshall Dallas, Chief Executive of the EICC, said: "While we recognise that the concept of food banks in 2018 is by no means something to be celebrated, at the same time we understand the benefit it will bring to a large number of people in our community who urgently require food, particularly at this time of the year.  We have so much respect for the work of the Edinburgh Food Project and Trussell Trust and this initiative absolutely squares with one of the EICC's key values around 'meaningful collaboration'.  We are also honoured to have the First Minister at our official launch today."
Bethany Biggar, Operations Manager of Edinburgh Food Project: "The cold winter weather and unrealistic expectation of how Christmas should be, make this time of year a very difficult one for our clients.  The generosity of the public and partnering businesses, like the EICC, ensure we are able to provide our clients with not only our standard food parcels, but also the festive Christmas treats. Thank you to everyone who has donated so far, and to those who will. Your contribution, regardless of how small, will make a huge difference to someone living in poverty this Christmas. I look forward to growing our partnership with EICC."