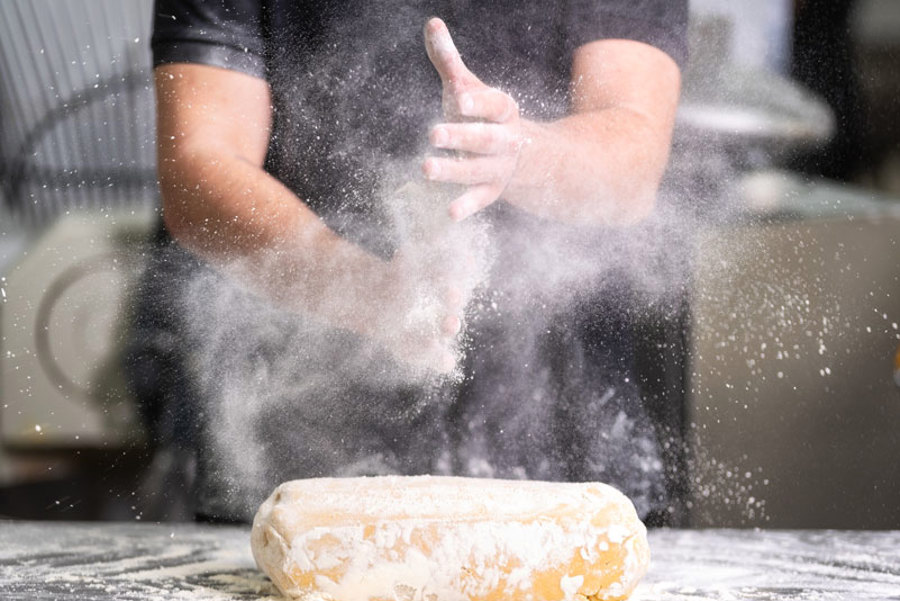 From bagels to baguettes, khobez to kladkakka, the vast range of cuisines on offer in Edinburgh proves the city to be an attractive place to run an international business. We spotlight some of the city's finest bakeries, all inspired by foreign traditions, and discover why their businesses are thriving in Scotland's capital city.
When it comes to eating in Edinburgh, visitors are spoilt for choice with more restaurants per head than any other UK town outside of London, and more than its fair share of Michelin stars.  
On top of the well-known and much-loved, Scottish offerings such as haggis, shortbread and tattie scones, Edinburgh's food market is heavily influenced by its rich international population. Businesses founded by immigrant families, such as S. Luca and the Contini family, have thrived in the city for over a hundred years, and the success of annual events such as Foodies Festival – hosted at the EICC for the past five years – demonstrates the city's taste for sampling novel cuisine. Recently, internationally inspired bakeries have been cropping up all over the city – providing ideal spots to soak up some culture and grab a quick, internationally-inspired bite to eat.
These are some of the Edinburgh bakeries which are blending a passion for quality baking with an international twist. They share with us the origins of their business, and what it is they think makes Edinburgh a brilliant place to run an international bakery.
Bross Bagels  
Bross Bagels arrived in Edinburgh in 2017 straight from the "bagel capital of the world" – not New York, but Montreal. Dismayed by the lack of this doughy delicacy in Scotland's capital, Larah Bross set up Bross Bagels, which now occupies four premises across the city – Leith, Bruntsfield, Portobello and the West End. 
With any luck, Edinburgh will soon be considered the third "bagel capital of the world"
"I lived in Scotland for 13 years without any bagels," says Mama Bross. "I would beg my parents or friends to smuggle them in from Montreal when they visited and hide them in the freezer for desperate times. I decided Edinburgh needed bagels – and Bross Bagels was born!"
"I think Edinburgh definitely shares my love for them – how could they not?!" 
Since day one, Bross Bagels has worked alongside Breadshare, a not-for-profit community bakery that promotes the health benefits of traditionally made bread. "I absolutely loved their ethos and I gave them the recipe for our Montreal bagels. Together we went on to design the 'Edinburgh way' of making organic Montreal bagels." 
Each Bross Bagels shop offers its own take on this Canadian classic. All the bagels are freshly made, organic and kosher, and are available by the bag or served with New York deli-inspired fillings – from the classic 'lox and a schmear' (salmon and cream cheese) to vegan bacon, avocado and hot kimchi sauce. With any luck, Edinburgh will soon be considered the third "bagel capital of the world".
Taza in Town 
Taza Bake is a Syrian "baking factory" with an incredible story. Founder Abdullah Razzouk, a native of Aleppo, moved to Scotland in 2002 to study at Robert Gordon University. Abdullah lived between Aberdeen and the Middle East, working in financial services, until the troubles in Syria prompted him to settle down in Scotland for good in 2011. "I had no plans to start a business," says Abdullah. "But I saw a shortage in the market of Syrian flatbread. There was demand from Edinburgh's Arabic communities – and locals too." 
"The whole point of this is to keep the same flavour, the same feeling, as if you are back home in Syria"

 
Born in 2015, Taza Bake began as a modest operation in Newhaven in north Edinburgh, supplying the signature flatbread known as khobez to customers around the UK by van. Since then, the company has gradually broadened its horizons; in October 2019 'Taza In Town' opened its doors in the city centre, just minutes from the EICC, to become Edinburgh's first authentic Syrian restaurant. Dishes combine Scottish meat and locally sourced vegetables with distinctive herbs imported from the Middle East. The menu offers both sweet and savoury delicacies, all made in-house, including vegan and vegetarian options – even a vegan take on baklava!
Edinburgh's restaurant market is highly competitive, with high expectations from both locals and tourists. But Abdullah believes Taza has something unique to offer: "We never compromise on quality, taste or authenticity. The whole point of this is to keep the same flavour, the same feeling, as if you are back home in Syria. We had a customer who was visiting Edinburgh for a few days from Argentina. He told me his grandfather came from the same city in Syria where I am from. It was a great experience for him – the food reminded him of what his grandmother used to prepare. It was a real honour for me."
Söderberg 
As a member of Food Sharing Scotland, Söderberg has pledged to eliminate food waste, often handing out leftover bread for free at the end of the day.
Swedish coffee house and bakery Söderberg is something of an Edinburgh success story. Beginning as a small café in the city's Quartermile district, it now encompasses seven premises across Edinburgh, as well as a London branch, which opened its doors in Soho in January 2019. Despite its considerable growth in recent years, every Söderberg café has maintained the feel of a small, local business. The original Quartermile café is a bright hygge haven, with outdoor seating for the summer and a cosy interior for colder days, with comfy chairs, blankets and coffee table books. It is open all day and into the evening, serving coffee, pastries, smörrebröd, salads, and more. Their classic Scandinavian sweet treats, baked on site, include cinnamon and cardamom buns, kladdkaka, pistachio horseshoes and chocolate balls. 
Söderberg is also a champion of sustainability, using locally and responsibly-sourced ingredients where possible, including flour from Shipton Mill based in the west of Scotland, and salmon from Belhaven Smokery in East Lothian. As a member of Food Sharing Scotland, Söderberg has pledged to eliminate food waste, often handing out leftover bread for free at the end of the day. Söderberg is a testament to the potential of an internationally inspired bakery in Edinburgh, particularly one that has something unique to offer to the city. 
The Wee Boulangerie
Keeping the Auld Alliance alive, The Wee Boulangerie is a French-inspired artisanal bakery on Clerk Street in the centre of Edinburgh. Since its foundation in 2012, the bakery has specialised in producing delicious, traditionally-made bread and baked goods every day, drawing on baking traditions from Scotland, Germany, Scandinavia and beyond.
Founder Katia Lebart trained as a boulangère in France and worked for several years in the industry before setting up The Wee Boulangerie in 2012. She was inspired to do so by her love of good bread and a desire to share that passion with others; making "proper bread and bakery products within a responsible company." Katia believes that Edinburgh is an ideal place to set up an international bakery. "Edinburgh is very cosmopolitan," she says. "The people are generally interested in other cultures, and supportive of independent businesses making good food." 
The Wee Boulangerie currently donate to SCOOSH, a local afterschool club, providing their excellent quality bread as a healthy snack for the children.
The Wee Boulangerie sees value in going back to basics: using simple and natural ingredients and adapting their recipes to seasons. Their mouth-watering products range from croissants to rye bread, macarons to mini pizzas – right down to the classic baguette. They are proud advocates of the Real Bread Campaign, an initiative that promotes production of and access to 'real' bread that is better for us and for the planet, free of additives and processing aids. The company doesn't stand for food waste; any bread left over at the end of the day is donated to charities. They currently donate to SCOOSH, a local afterschool club, providing their excellent quality bread as a healthy snack for the children.
Greek Artisan Pastries 
Greek Artisan Pastries is a bakery situated on the aptly named Bread Street, just a stone's throw from the EICC. Owned and supplied by Greek import company Ariston Foods Ltd, the bakery is founded on quality, passion and differentiation, with customer satisfaction at the heart of all they do. Their authentic products include filled pies, focaccia, and sweet pastries – ideal for a quick and scrumptious lunch. They also offer vegan options, including Patatopita, a double potato roll with herbs, and Manitaropita, a mushroom pie.
Whilst studying for a degree in Business Management at Heriot Watt University, Greek entrepreneur Eleftherios Amourgianos found he was missing an important part of his culture. "My friends and I would study late into the night, and we always craved some warm and delicious handmade Greek pies. It was then that I knew what I would do after I graduated: start my import company and bring delicious Greek pastries and food products to Edinburgh." 
"Edinburgh is a fine example of a multicultural food city in Scotland," says Eleftherios. "I couldn't resist being a part of it. The student population here is massive and comprises a large number of international students, combined with people working and living here from all around the world." 
As well as their Bread Street shop, Greek Artisan Pastries has premises in Portobello, and Ariston Foods Ldt proudly supplies both Heriot Watt University and the University of Edinburgh with their authentic fare.