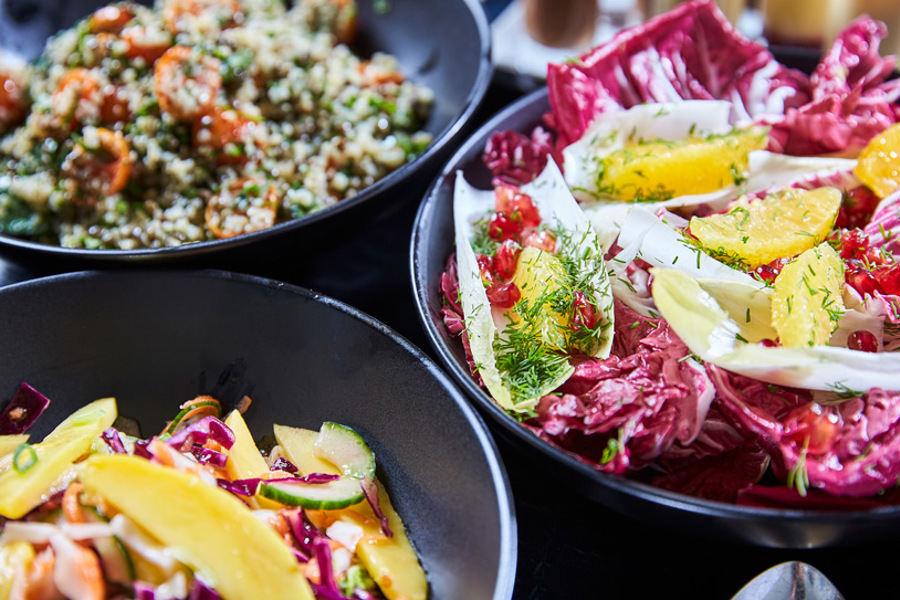 Poor nutrition is a recipe for disaster at conferences and events. Forward-thinking caterers are now offering nourishing menus to boost delegate productivity and engagement.    
Beyond pure sustenance, food and drink create experiences that bring people together. Modern approaches to catering aim to reflect the collaborative spirit of conferences by connecting delegates, sparking conversations and facilitating the exchange of ideas. Being more inclusive of world flavours, as well as dietary requirements, is reflective of an increasingly interconnected global community; one of togetherness and cooperation. Conferences are melting pots – and food and drink is the secret ingredient.  
The relationship between the food that is served at conferences and its impact on the concentration, energy and performance levels of attending delegates has been under increased scrutiny in recent years. Event hosts worldwide are increasingly swapping heavy, carbohydrate-intensive meals for lighter and healthier options that sustain delegates throughout the day. The team at Leith's, the food and hospitality operation that has partnered with the EICC since we opened in 1995, has embraced this evolution by introducing an array of new and exciting dietary options that cater for modern tastes and expectations. 
The evolution of conference catering 
As General Manager of Leith's at the EICC, Adrian Wade has a lot on his plate – but relishes the challenge of making sure thousands of event delegates are properly fed and watered every year. He says there has been a significant shift in demand that is driving change across the events catering sector.    
The satiety index measures different foods' ability to satisfy hunger. High-scoring food groups keep you fuller for longer whilst also helping you to intake fewer calories overall. 
"Conference food of days gone by always included big portions of carbohydrates with plenty of meat," says Adrian. "Snacks were high-sugar biscuits or cakes. There was more of a focus on providing enough food to keep delegates from being hungry and nutrition took a backseat. Nowadays, there is much more of an appetite for fresher, healthier options that keep you satisfied and consistently energised."   
Foods high in water and fibre – such as fruit, vegetables or oats – are known as high-volume foods, meaning they add bulk to meals and keep you full for longer. These, as well as foods packed with protein, rank highly on the satiety index, which measures different foods' ability to satisfy hunger. High-scoring food groups keep you fuller for longer whilst also helping you to intake fewer calories overall.   
"Our food offer reflects this contemporary thinking," says Adrian. "Our menus cater for a range of dietary requirements and are focused on wholesome and nutritious ingredients. They are designed to be exciting, energising, colourful and stylish."    
Adrian and the team at Leith's are conscious of the benefits of good food in energising EICC delegates. By emphasising natural and slow release nutrition, rather than the sudden blood sugar spikes and empty calories that accompany traditional event break items like coffee and pastries, delegates remain alert and engaged throughout the day's proceedings.    
"If you have a cup of coffee with two sugars and a piece of cake, you will get an intense rush of energy that will last less than an hour," says Adrian. "Conversely, if you eat an oat and fruit-based flapjack and a piece of fresh fruit, that will sustain you for far longer. The recent TEDSummit was a great example of an event where delegates were offered a variety of nutritious items throughout the day to provide an ongoing source of energy." 
Changing tastes    
A modern approach to event catering must also reflect the values of the organisation that it is hosting. For corporate events in particular, this means provenance, husbandry and ethical considerations are paramount.   
"Events are a great way for corporate clients to demonstrate their organisation's ethos in action," says Adrian. "Most, if not all, have environmental pledges and are ethically conscious. These are values that we share here at the EICC. We maintain close relationships with local suppliers – this has been a cornerstone of Leith's since the beginning. For example, the famous Shortbread House of Edinburgh provides us with their delicious shortbread – but with reduced fat, butter, and sugar. For us, it's important to collaborate with local suppliers, but to do so in the right, nourishing way for our delegates.  
"Ensuring proper animal welfare is vital, as are minimising environmental impacts. The origin of the ingredients, the sustainability of their production; we convey this kind of information to delegates at the point of service via menu cards and information boards."   
Adrian distinguishes between the corporate and association events held at the EICC: "Corporate guests tend to be very health-conscious and many are vegetarian or vegan, so meat or fish-based dishes are not as common. On the other hand, whilst nutrition is important for international associations, these events tend to be inviting delegates from all over the world. This non-British audience wants to sample lots of what Scotland's world-renowned natural larder has to offer. Scottish lamb, beef or salmon are very popular; traditional dishes like haggis, neeps and tatties too. We serve these iconic Scottish dishes, and in doing so support the national economy by using prime Scottish ingredients." 
The way in which food is served is also changing, as the conference world becomes more informal. Rather than sit-down meals with multiple courses, modern conferences tend towards offering smaller, more portable meals that can be eaten while networking. Food enjoyed in this way can act as a talking point; a memorable feature of the event that promotes interaction and builds relationships. At the EICC, 'Bowl Food' is designed to be eaten standing up and offers a more substantial yet equally stylish alternative to canapés. In addition, finger buffets consist of light bites for the busy delegate – ideal for networking.     
Adding a global flavour
"10 years ago, you would never have offered a banker a street food supper. Now that would very much be the norm."
Moreover, the influence of world flavours on events catering cannot be understated. Leith's at the EICC use prime Scottish ingredients but then cook and serve them "with a twist", as Adrian describes: "Rather than a single joint or loin, we often offer strips of meat with an assortment of herbs and spices that have come from the Far or Middle East. This could be served with Thai Jasmine rice or Middle Eastern grains like freekeh instead of potatoes, for example. By combining premium Scottish ingredients with world flavours and ingredients, we create a completely different style of dish."    
The street food phenomenon has also reached the world of events catering. 
"Even large multinationals or financial institutions love bowls of street food," says Adrian. "Our menus always reflect contemporary tastes in this regard. The chefs and I make regular visits to London and different parts of the world where they are famous for their street food and incorporate these ideas into our menu offer.   
"10 years ago, you would never have offered a banker a street food supper. Now that would very much be the norm."  
Picture yourself at your next conference: after a hearty plate of lasagne with a generous side of garlic bread, you grab a strong coffee and soon feel wide-awake – but this is short-lived as the food slump sets in. You struggle to engage in the conference content, such is your stupor. Now snap out of this scenario and instead visualise one where you enjoy a rich bowl of saffron paella with broad beans and piquillo peppers whilst chatting to industry peers. You stay engaged, and leave the event feeling creatively and professionally inspired. Now, of these two options, which would you prefer?