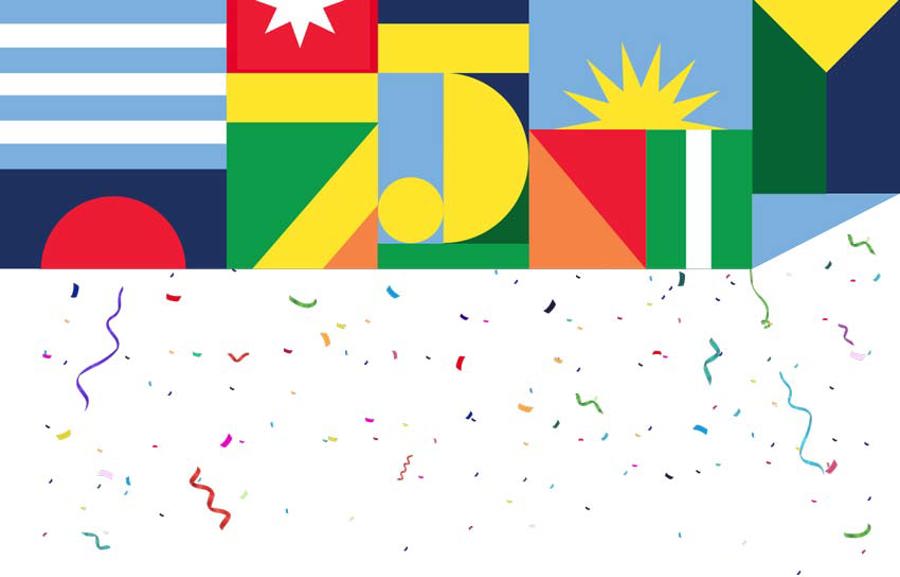 Anyone who knows Edinburgh will be aware of how the city comes to life every summer as seven spectacular festivals fill every possible venue and performance space in the city, and even spill out onto the cobbled streets. This August, however, will be a particularly special one: it marks the 75th anniversary of three of Edinburgh's most iconic festivals.
Edinburgh International Festival, Edinburgh Festival Fringe and the Edinburgh International Film Festival are all celebrating their 75th anniversary in 2022. This exciting milestone combined with the first fully restriction-free summer post-pandemic suggests this could be the best year yet for Edinburgh's festivals.
"This festival was founded on principles of reconciliation and the ideals of art transcending political and cultural fracture."
In March this year, award-winning Scottish violinist Nicola Benedetti was appointed director of the Edinburgh International Festival, and is the first female and first Scot to take on the role. "I am deeply honoured to contribute to the long and rich history of the Edinburgh International Festival and the cultural landscape of Scotland," Benedetti said in a statement. "This festival was founded on principles of reconciliation and the ideals of art transcending political and cultural fracture. Following in the footsteps of the wonderful achievements of Fergus Linehan and his predecessors, I will uphold these values and greatly look forward to serving this festival, its mission of cultural exchanges, and the people of Scotland."'
Edinburgh International Film Festival returns for its 75th anniversary year with a fully in-person programme of screenings and events championing innovative filmmaking from Scotland and beyond.
This year's festival will return to in-person screenings and events indoors across the city centre, at venues including Filmhouse Cinema, Cameo Picturehouse, Everyman Edinburgh at the St James Quarter and Vue Edinburgh Omni and outdoors with Film Fest in the City in St Andrew Square.
The programme of 125 films will be headlined by a career retrospective of Japanese actress and director Kinuyo Tanaka. This year's event will celebrate in particular the role of female directors and filmmakers. EIFF creative director Kristy Matheson said: "I would like to thank all my programming and festival production colleagues for their smarts, dedication and generosity in preparing our 2022 edition.
"To the filmmakers who've trusted us with their stories, and our many collaborators for their time and creative input into the festival, a very big thanks. We've crafted a programme that we're enormously proud of and we can't wait to share it with audiences this summer in Edinburgh."
Meanwhile, Edinburgh's iconic Fringe Festival is undergoing great change thanks to the vision of CEO Shona McCarthy, who has pledged to make the festival more accessible and "rebuild something better" following the pandemic.
"The modern scale of the Fringe has had an impact on its accessibility," McCarthy explained in a statement. "It has enjoyed years of growth and now is the time to ensure that size does not come at the expense of creative freedom or inclusivity. We want the next 75 years to be defined by the quality of the Edinburgh Fringe experience, not the scale. We are determined to tackle unfair work or poor volunteering practices, to radically reduce our carbon footprint and to accelerate our digital offering. By doing so, we will give the Fringe community the tools it needs to be as competitive and enjoyable as possible."
What's on at the EICC?
In our biggest and most varied festival lineup yet, the EICC will play host to many exciting events throughout the month of August as part of a partnership with The Pleasance. The schedule includes comedy, theatre, music, dance, and even circus!
A particular highlight will be a performance from Freedom Ballet of Ukraine, a world-renowned ballet company from Kyiv. Celebrating their 20th anniversary in Edinburgh with 14 incredible dancers, they will deliver Ballet Freedom - an intimate, sensual adaptation of their hit show Boudoir, which is about love, loss, and figuring out who you truly are.
Music-wise, alt-country outfit Countess of Fife led by The Rezillos' Fay Fife will play on 26 August. With a sound described as "an unholy alchemy of country, punk and gospel", the four-piece will be playing material from their upcoming debut studio album, Star of the Sea.
You can also catch the folky stylings of Edinburgh-born singer-songwriter Adam Holmes between 17 and 23 August, or hear Diwan, an international collective of musicians who share a love of West African beats, led by Senegalese singer Samba Sene.
Back at the Fringe after five sold-out seasons, Trainspotting Live will be returning to the EICC throughout August. The show is an acclaimed stage adaptation of Irvine Welsh's classic Edinburgh novel, which the author himself described as the "best way to experience Trainspotting".
From 4 - 20 August, Fringe First award-winner Apphia Campbell returns with her stunning solo show, Black is the Color of My Voice. The show, which is inspired by the life of Nina Simone, returns to the EICC after a sold-out UK tour and London season. It has been called "sensational", "compelling" and "heartbreaking".
Also on the schedule throughout the month are the raucous antics of Shit-Faced Shakespeare. This internationally acclaimed theatre company puts on an abridged rendition of a Shakespeare play – this year it's Macbeth – with one very drunken cast member. What could possibly go wrong?!
All this, and so much more, will be going on inside the walls of the EICC throughout August. To read the full lineup and buy tickets, visit our What's On page.