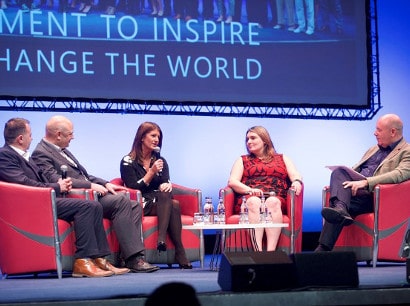 Edinburgh, 26 September 2018
The Edinburgh International Conference Centre (EICC) is paving the way for a career in the UK events industry - which is now valued at over £40 billion (with the conferences, meetings, incentive travel and exhibitions segment at approximately £21 billion according to BVEP research in 2017) - with an industry showcase event planned for 5th October in Edinburgh to educate students from schools, colleges and universities about the opportunities available across the industry.  Research indicates that despite growing numbers of skilled jobs in hospitality, the level of knowledge about these opportunities is low.   
The showcase will see students taken on tours of the venue before listening to a line-up of guest speakers from the industry - including ExecSpace CEO and Founder, Emma Little; Sheraton Grand Hotel General Manager and Chair of Edinburgh Hoteliers Association, Tristan Nesbitt, and; Adrian Wade, General Manager, Leith's at the EICC - followed by a Q&A and panel discussion. 
Marshall Dallas, Chief Executive of the EICC, said: "The business events industry is a fast-growing segment of Scotland and the UK's economy and our Master's degree which we run in partnership with Edinburgh Napier University is not only unique, we also think it's one of the best of its kind anywhere in the world.  It can lead to an exciting career in an industry that continues to grow year after year, by arming candidates with a skill set that will allow them to fast-track their way in the national and international business tourism sector.  As an international conference centre, we're passionate about, and take responsibility for, developing new talent for the events industry and we are looking forward to welcoming over 200 students this Friday from all over Scotland and further afield. We are also very much looking forward to welcoming our second intake of MSc students in January 2018."
Amanda Wrathall, Sales and Marketing Director at the EICC, said: "Research shows that while on one hand people are not actively encouraged into the hospitality sector, there is a wide range of opportunities from convention centres like the EICC, to hotels and agencies.  At the same time, we are experiencing a marked increase in interest from colleges, schools and universities and we want to be able to offer a platform to share our experience and pass on knowledge.  Dean Matheson, one of our Sales Executive's at the EICC and a recent graduate of Events Management from Edinburgh College saw this gap and has driven the project to help students and young people gain insight into the industry, he knows that the links he made while studying have been key to his career success."
Dean Matheson, a Sales Executive at the EICC and a graduate of Events Management from Edinburgh College, was instrumental in designing the open day which is set to become an annual fixture going forward.  Dean Matheson said: "Having had first-hand experience of the importance for students linking up with industry during their studies, we're excited to launch the open day and to provide a platform for the event industry talent of the future."