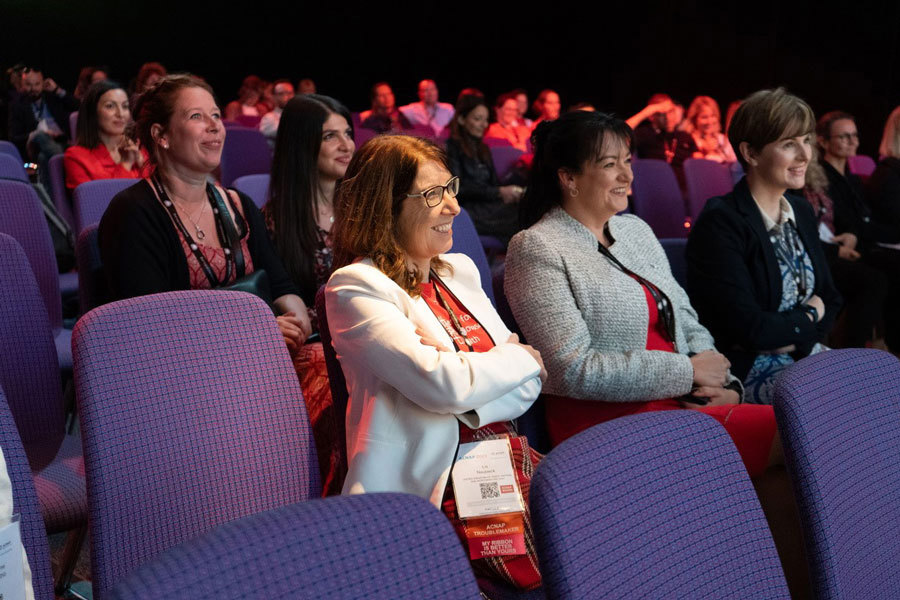 In June, the Association of Cardiovascular Nursing & Allied Professions (ACNAP) worked with the EICC to bring about an engaging, informative, educational conference that shared the latest achievements in cardiovascular care.
THE CONFERENCE, titled 'Putting our Hearts in to Patient Care', reflected ACNAP's desire to highlight scientific practice, while focusing on the Association's raison d'etre: patients and the public. Leading the way was Professor Lis Neubeck, Head of the Centre for Cardiovascular Health. 
Together with the help of the EICC, ACNAP ensured the conference raised awareness of heart health, and created opportunities to discuss crucial policy changes needed to Scottish Government guidance.
Professor Neubeck explains what made the conference such a success. 
Choosing the right venue
The ACNAP's annual conference brings together cardiovascular nurses and allied professionals, pharmacists and health care scientists to learn more about the latest in cardiovascular care. "We had a strong focus on patient centredness within this Congress", explains Professor Neubeck. "As it's a global conference, we really wanted to bring people together from around the world to learn from each other's experience."
"As it's a global conference, we really wanted to bring people together from around the world to learn from each other's experience."
When choosing a venue, Professor Neubeck explains that ACNAP was seeking a modern venue with strong technology options and the conveniences associated with international conferences. Being ideally located in the west end of Edinburgh, the EICC is perfectly placed for those travelling to the venue by public transport - including by plane, train or tram.  
"It's central enough to feel that you can really visit and enjoy Edinburgh", says Professor Neubeck. "The location is so convenient, and once you get inside it also has such great facilities. It's light, bright and welcoming. Having all the modern conveniences you'd want in a conference centre really adds to the benefit of being there.

"I can't praise the EICC staff highly enough in terms of making us feel like we were engaged, and regularly checking on us to make sure that everything was going well."
Smooth running
With technology playing such a key role in modern conferences, the EICC sets a high bar when it comes to things running as smoothly as possible. From speaker presentation, to sound and lighting, our mission is for clients and delegates to experience the best possible event.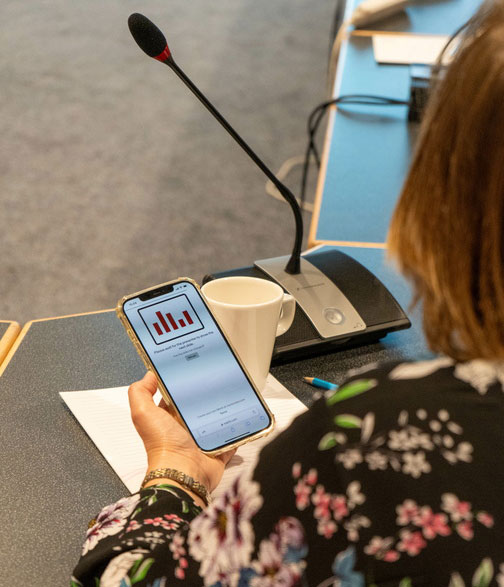 "Everything worked perfectly … It was fantastic in terms of everything running on time, and being delivered in the way you expected".
"Everything worked perfectly", explains Professor Neubeck. "It was fantastic in terms of everything running on time, and being delivered in the way you expected. The ability to announce upcoming sessions, so that delegates were aware of what was happening was really advantageous. In that respect, it was a great venue to run a very modern conference. We've been to a variety of different venues which have had different strengths and weaknesses, but I would say that the EICC would be right up the top of what we've experienced in terms of running this conference in the past."
As a member of the EICC Exchange Initiative, Professor Neubeck says it has helped bring a sense of community back into conferences, which can sometimes be overlooked. "Being part of the Exchange Initiative helps us to focus more on running a conference for the local benefit, rather than purely commercial profit. That was something that really appealed to me: rather than just flying in and flying out, we actually created some kind of legacy for the city."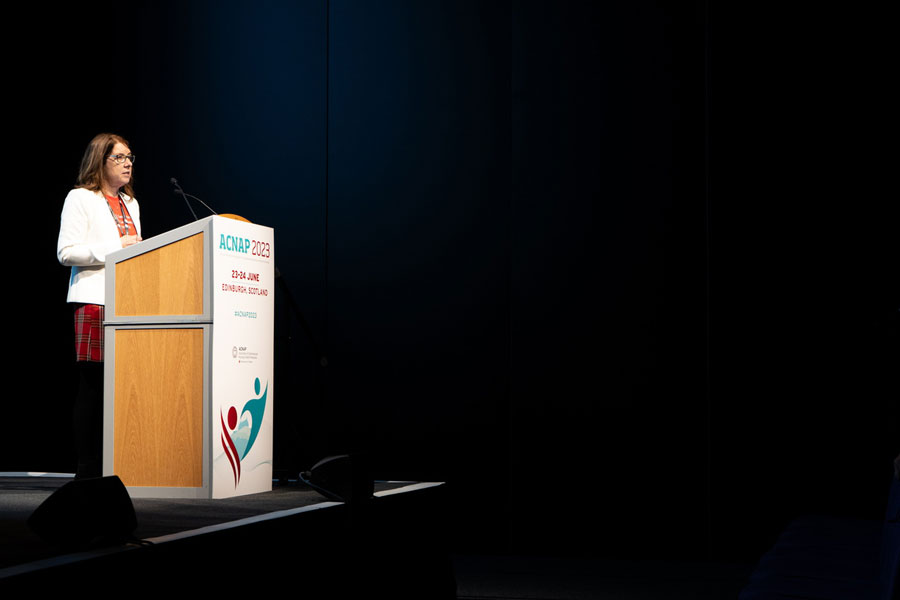 Working with the EICC
The ESC and Professor Neubeck worked directly with the EICC team to organise the running of the conference, from essential conference programming to finer details specific to the field of cardiology. "Being able to communicate with dedicated members of the team directly was particularly helpful in understanding how certain elements could work," says Professor Neubeck.
"Some of the awareness raising activities were purely driven by my connection with the EICC. The team also put us in touch with the events team at the castle, where we held our welcome reception. Again, that was really through contact with Lyndsey, our Account Manager, who presented the castle as an option for the reception. We then fundraised to make it happen."
Easy communication
"It was really reassuring to actually be able to see the people who've been helping you all along, and know that they were there to make sure everything was running smoothly."
Professor Neubeck was impressed with the accessibility of the EICC team in providing assistance and answering questions on all aspects of the conference. "The team was incredibly accessible in terms of getting in contact with them and figuring out solutions to logistical challenges. When you run out of steam a bit, they can also give you some great suggestions on what has worked in the past, or make other logistical suggestions.
"Communication was so straightforward and the team was also present and visible on the day. It is really reassuring to be able to see the people who've been helping you all along, and know that they are there to make sure everything was running smoothly."
Lasting impact
The primary objective of the partnership between the ACNAP 2023 conference and EICC was to foster collaboration and learning amongst the global community of cardiovascular professionals. The conference aimed to create a lasting impact by facilitating education and raising awareness of heart health within the host city, Edinburgh.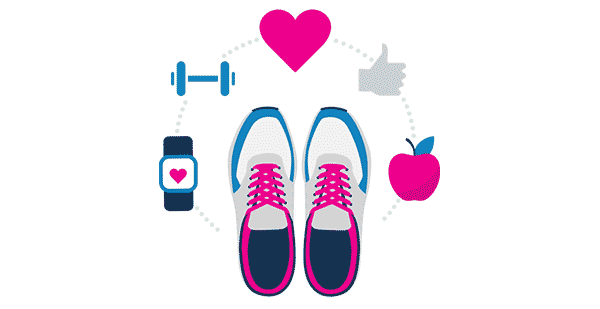 Public engagements
ACNAP and the EICC went beyond traditional conference boundaries by incorporating public engagement opportunities into the programme. These included:
Heart disease screenings ahead of the ACNAP conference, Professor Neubeck and volunteers from the ACNAP community screened 105 members of the public at various Sports Centres in Edinburgh
A Public Talk attended by 80 people was held before the official opening of the conference. Professionals spoke about how public health policy influences heart health and how we can all improve our heart health by; choosing active travel, reducing air pollution and lowering our salt intake
Walking history Tour in aid of the British Heart Foundation
Fun Run in aid of the British Heart Foundation
Delegates wore red on the final day of ACNAP 2023 to raise awareness of Heart Disease
Three press announcements were made during the conference to raise awareness of ACNAP and its mission to promote excellence in cardiovascular nursing through The European Society of Cardiology (ESC)
The Scottish Minister for Public & Women's Health, opened the ACNAP 2023 Awards Ceremony, highlighting the Scottish Government's commitment to person centred cardiovascular care and the role of allied professionals and nurses across clinical, research, advocacy and policy
The success of incorporating important public engagement initiatives highlights the value of involving the local community in conferences. Partnering with dedicated ambassadors such as Professor Neubeck allowed the EICC to become more involved in the public facing planning process, and facilitated innovative ideas which created positive impacts. 
Collaboration is continuing with Professor Neubeck, and the final objective is currently in planning – to ensure that women are aware of their risk of heart disease and that health professionals know how to best support them.
BEST recognition
The ACNAP 2023 conference epitomised excellence by showcasing talent, technology, and location. With a patient-centric approach and a strong focus on community engagement, the conference left a profound legacy in Edinburgh. 
This is why ACNAP 2023 was the first event to be acknowledged with the new Business Events Shaping Tomorrow (BEST) Recognition system. This initiative was devised by the Edinburgh Tourism Action Group Business Events team to bolster the city's business events sector, recognising the contributions that events such as ACNAP can have on the professional and residential community.
"With the help of the EICC, we were able to successfully engage with the local community through important awareness-raising activities, as well as showcase Edinburgh and its beauty for those visiting."
The ACNAP event impacts and outputs were measured against 17 Sustainable Development Goals (SDGs), and critiqued on how the Association contributed towards positive global change.
ACNAP achieved Gold recognition in both the 'Good Health & Wellbeing' and 'Responsible Consumption and Production' categories, Silver in 'Quality Education & Reduced Inequality' and 'Sustainable Cities and Communities', and finally a Bronze in 'Working with a city that is Globally Responsible.'   
Biggest takeaway
ACNAP felt it was able to achieve what it set out to achieve, which, in Professor Neubeck's words, "was to create something bigger than just a conference."
"We wanted to create some awareness of heart health and the importance of heart health. To me, that had to be a major objective. Yes, you want people to get a good education and take it back to their own country, but you also want to make a difference where you're hosting the conference and not just be flying in and flying out and not really thinking about the place you've been. 
"With the help of the EICC, we were able to successfully engage with the local community through important awareness-raising activities, as well as showcase Edinburgh and its beauty for those visiting."