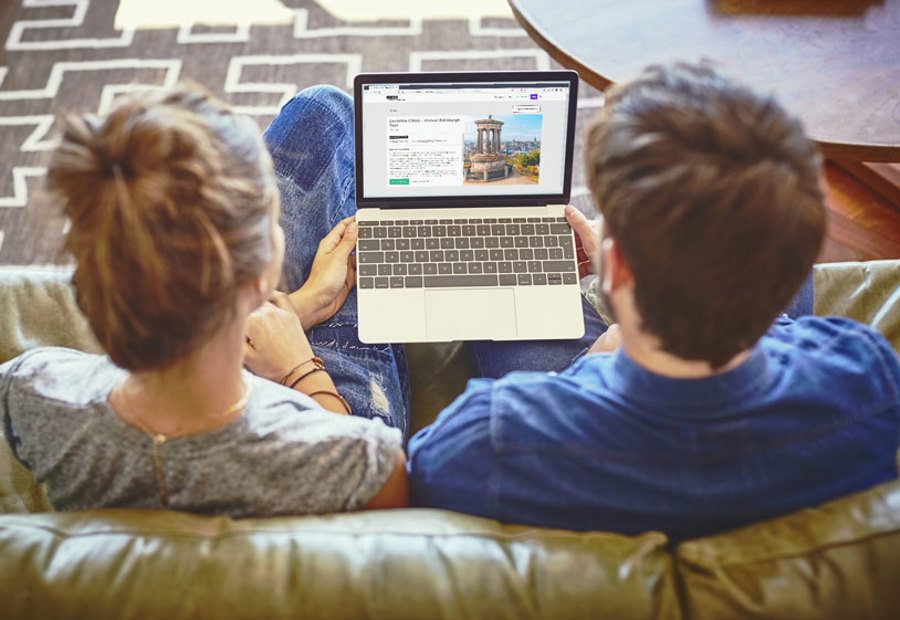 We explore the potential of the EICC's exciting new partnership with Edinburgh Lockdown Economy, which allows delegates to experience the city from the comfort and safety of their own homes
Attending an event is about more than just the event itself. It's about travelling to a new city, taking in the sights, experiencing local culture and supporting the local economy. Here at the EICC, it is part of our mission to create enriching experiences for our delegates, allowing them to experience the culture and character of Scotland's beautiful capital city.
"Edinburgh Lockdown Economy share our ethos for supporting the local business community, social enterprises and other city partners"
We've found ways to adapt our events over the course of the pandemic, having launched our hybrid events initiative 'Make It Edinburgh Live' in May. Whilst translating our events to an online format, we were determined not to compromise on the valuable experiential elements of an event. We wanted to continue to provide opportunities for delegates to live like a local in Edinburgh, whilst they are joining one of our hybrid events.
"We want to give delegates joining events online a rich experience," said EICC CEO Marshall Dallas, "and partnering with the Edinburgh Lockdown Economy has helped us to realise that. They are doing amazing work and they share our ethos for supporting the local business community, social enterprises and other city partners in and around the city."
A hub of experiences
The Edinburgh Lockdown Economy site collects and shares free listings of the services that are ongoing in the city, helping to raise the morale of residents and keep local independent businesses thriving during these challenging times. The site is a goldmine of information for locals: it can tell you where to get a really great coffee, what restaurants are delivering, how to attend a virtual dance or yoga class, and so much more.
Through the partnership, delegates of EICC events can access a tailored hub of activities and experiences of the city. This ranges from virtual city tours of the Forth Bridges and St Giles' Cathedral to a virtual pub quiz; live-streamed comedy from The Stand Comedy Club to an online beer festival with tastings delivered to your door. There are many experiences to choose from, whether you want to relax with a drink after a busy day of online conference session, share a laugh with your co-workers, or learn something about Edinburgh's history.
Tom Harries, founder of Edinburgh Lockdown Economy, wanted to come up with a way to help Edinburgh's wealth of independent businesses during the lockdown. "Edinburgh benefits from a few things that help independent businesses thrive," says Tom. "The first is a supportive community of local customers who choose to buy quality produce and creativity from people they trust. The second is Edinburgh's position on the world stage - it has history, heritage and is a cultural capital that people from across the world, and in the UK, love to visit."
"Our objective has always been to help the local community connect with new audiences in a meaningful way, where their personality and authenticity is their selling point"
Initially, Tom and the team took to social media, but after finding that information was being lost, they set up a site to put everything in one place. "We've grown the site to nearly 800 local businesses," he explains, "and we've continually tried to push the limit of our service. Working with the EICC is a good example of how we've responded quickly to help the local businesses on the site gain exposure to a new audience.
"The EICC contacted us when they were beginning to think about their hybrid events initiative. We immediately got to work and developed a curated group of Edinburgh locals that represent the community here for visiting delegates. Our objective has always been to help the local community connect with new audiences in a meaningful way, where their personality and authenticity is their selling point - not just that they're local or convenient."
As well as dedicating his time to supporting local organisations, Tom has also been enjoying the services himself during the lockdown. "There are so many great ones to choose from! Seeing businesses like SprEHd which has grown from bedroom to high street during the lockdown delivering grazing boxes of local produce is incredibly heartening. A special mention should also go out to Good Brothers wine bar, who pivoted quickly to deliver veg boxes with loads of goods from other local stores too."
Giving something back
"We're grateful for the roles Edinburgh Lockdown Economy and the EICC have played in getting the word out"
One of the social enterprises featured is Invisible Cities, an organisation which trains individuals affected by homelessness to become walking tour guides. Instead of taking to the streets for the tour, Invisible Cities is now offering a virtual trail around Edinburgh including photos, videos, and audio content. Profits are reinvested into the continued education of guides and other programmes giving support to those affected by homelessness. Zakia Moulaoui, founder and CEO of the social enterprise said: "In common with so many others, the current health crisis has been challenging for our team who would have been approaching their busiest time of the year. Until our people can get back on the streets with tourists, we've been heartened by the interest in our virtual tours and we're grateful for the roles Edinburgh Lockdown Economy and the EICC have played in getting the word out on the web."