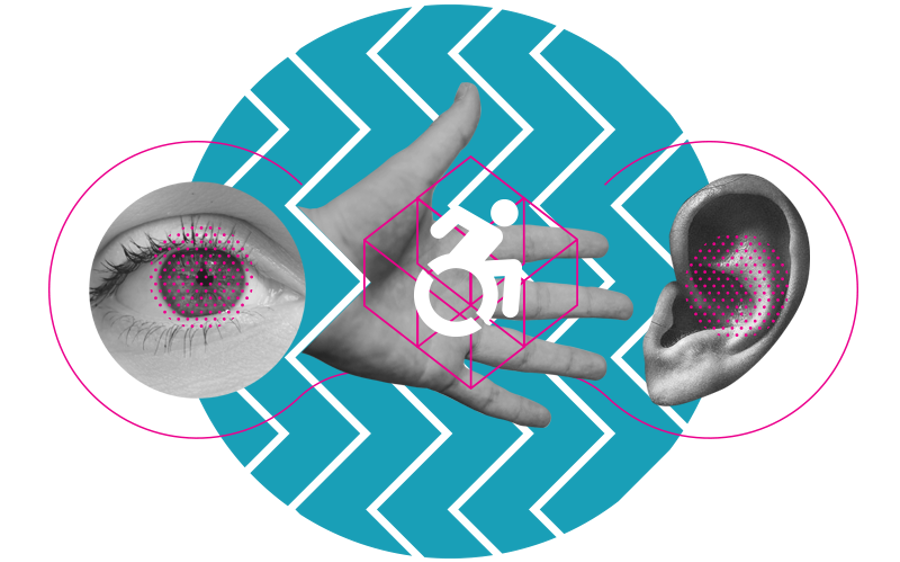 Being accessible doesn't just involve being wheelchair friendly. We spoke with Paul Ralph of disabled access review website

Euan's Guide

, who shared his ideas for making your event more accessible
For Paul Ralph, Access and Inclusion Director of Euan's Guide, inclusivity starts with people, not place. "A venue might have accessible toilets or the correct signage," he says, "but if the staff don't feel confident welcoming disabled delegates then all of that inclusivity is lost. You can tell a little about a venue on paper or online, but it's that human interaction in the first few minutes when you come in that makes all the difference."
Described by author Ian Rankin as a 'Trip Advisor on wheels', Euan's Guide was founded in 2013 by Euan MacDonald, a power chair user who has Motor Neurone Disease, and his sister Kiki MacDonald, when they were looking for recommendations for accessible places to visit.The website features thousands of friendly and honest disabled-access reviews and listings in the UK and internationally. It aims to be an alternative to the hours spent making telephone calls and searching for access information online before deciding to visit somewhere new.
"I've been to conferences and staff have turned and walked away as they are unsure what to do, what to say or how to engage."
While many venues, like the EICC, have undertaken regular accessibility audits, there are still many that Paul believes are lacking when it comes to providing facilities for disabled visitors. "I can think of occasions where I've been to conferences and staff have turned and walked away as they are unsure what to do, what to say or how to engage. The inclusion part is how people feel about being in the space and what people do in the space. That's what inclusion means.
"Never underestimate the power of face-to-face interaction. While good communication can build the foundations of a good experience, it is the friendly face at the door, greeting the guest that will transform an experience."

1. Catering to all
Inclusivity doesn't end here though; it's crucial to provide support and communication throughout the entire event. Buffet lunches, for instance, need to be thought through. "I recently attended one with no tables for me to put my food on," says Paul. "Things like that are easily overlooked, and even when tables are provided for that purpose they don't always feature signage to that end, and so people will sit at the tables. Make sure you get ahead: provide additional tables or amenities with recognised signage to help people with disabilities."
The buffet format has other challenges. One of Paul's colleagues, Ian, is visually impaired. "Ian's great challenge is that when a buffet is put out he has no idea what's in front of him, even with labelling. The way to deal with that is to have catering staff actively engage with delegates and offer help when it's needed."

2. Managing mobility
Conferences are increasingly moving away from the traditional lecture format. While this brings opportunities for delegates, it also brings issues for people with disabilities.
"I've been to a conference where the first half of the day was spent in a beautiful auditorium," says Paul. "Later in the afternoon, the conference went into breakout mode and everyone suddenly disappeared to different places. I was left trying to figure out where I was supposed to go. Even when I got there, the tables were so close together that I couldn't get in without moving chairs, but I couldn't do that either and so I was stuck."
Paul's advice when it comes to managing mobility again comes down to communication, specifically around navigation, signage and orientation.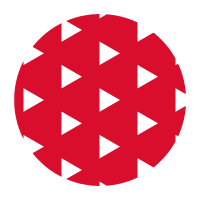 3. In case of emergency
Of course, emergency evacuations are something that should be meticulously planned for, and hopefully rarely required. As part of this, event venues and organisers need to communicate with all delegates regarding evacuation, especially those with disabilities.
"It's not fair on the venue or host if you happen to be disabled to turn up without verbalising that you will need help," says Paul. "However, it's important for the host to provide ample opportunity for the individual to identify themselves. This can be in promotional material before the event or through adequate signage on the day."
Paul believes it's also essential to encourage staff to ask questions if they have queries. "I stayed in a hotel in London and the welcome was brilliant," says Paul. "Before we went up to the room, a member of staff asked if we could take a minute to go over the evacuation plan. We ran through scenarios, and it gave me the confidence to sleep easy. That's inclusivity."
The onus is on venues and organisers to work together to ensure that all delegates are briefed on evacuation plans. In fact, Paul wants to see evacuation plans being included as part of conference introductions.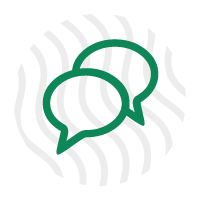 4. Communication for all disabilities
Euan's Guide considers 'pan-impairment', with reviews coming in from people with all kinds of disabilities.
Well-lit spaces that are easy to navigate largely score well. Hearing impairment, too, needs to be considered – perhaps by the use of screens and messaging. "I'm always encouraged when conferences put the programme on a screen for people to read. That's a case of the organiser and the venue thinking about their delegates in advance. Autism is an increasingly important consideration when it comes to conferencing, involving visual and audio elements of the environment.
Regardless of disability, communication is fundamental. "Accessibility is all about investing in people, giving them the confidence and awareness they need to work such events," says Paul.
While supporting disabled delegates may seem like an obvious consideration, it's often an overlooked aspect of event management. Venues and event organisers need to ensure that every delegate is cared for.
"For disabled participants – be they delegates, speakers or invited guests – the journey doesn't start when they enter the door," says Paul "It begins with communication. Never be afraid to ask questions and remember to be mindful about every visitors' experience."
Accessibility at the EICC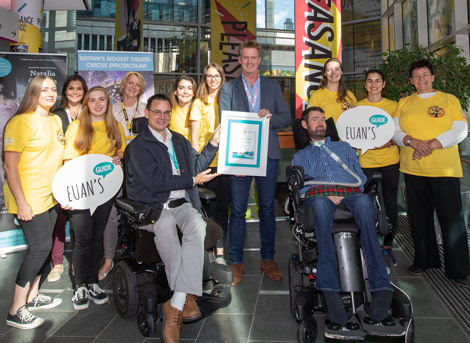 In August 2018, the EICC won Best Venue at the Euan's Guide awards for the best examples of disabled access at Edinburgh Festivals.
Paul Ralph commented of the win: "With a venue that has potential to be challenging for disabled people by virtue of its scale and complexity, the actual experience of visiting is the opposite. The clear signage, the sense of direction and the spacious routes and rooms make visiting a pleasure. The warm welcome of the staff and the 'can do' approach contributes much toward ensuring all visitors have a great experience. The recognition goes beyond that in that thought has evidently been given to the access requirements of all visitors."
Suffice it to say, as a modern, purpose-built and fully accessible events venue, we never regard accessibility as an afterthought. Here's an overview of our key accessibility features, resources and initiatives, to give you peace of mind that, together, we'll make sure your event leaves nobody out.
Staff Training
We recently undertook company-wide disability awareness training to increase our understanding of and confidence in dealing with the practical assistance required by delegates and visitors with disabilities.
Navigation
An effective front of house service, as well as prominent signage and lighting, ensure smooth navigation of our venue. Despite our building's scale, it is both highly functional and welcoming – and our helpful team of staff is always on hand to assist with navigational and accessibility needs.
Lifts
All areas of our venue can be reached by lift. All lifts have spoken message indicating which floor the lift is on and whether the doors are opening or closing, and all are fitted with grab bars for delegates with impaired mobility.
Toilet Facilities
On each floor of our venue there are adapted toilets with grab rails, emergency buttons and lowered mirrors and fittings.
Induction Loop
We've installed an Induction Loop in our Pentland Auditorium, for visitors with hearing impairment.
Wheelchair Spaces
We can make adjustments to our facilities where required for disabled visitors, such as providing wheelchair ramps. We also have dedicated wheelchair spaces in our Sidlaw, Fintry and Pentland Auditoria.
Sign Langauge
The EICC has good links with the Scottish Association of Sign Language Interpreters and can provide interpreters for all conferences at a reasonable fee.
Visual Impairments
Conference information can be produced in braille or tape formats for delegates with visual impairment, and assistance dogs are welcome.
Autism Aware
We understand that some for people with autism, attending an event can be a daunting experience. Our aim is to be a leading international venue that is accessible to visitors with autism. Working with The National Autistic Society, the EICC team has been equalities trained and is committed to following the company's ethos of being inclusive to all EICC visitors. We've even put together an Autism Friendly Event Organisers Guide and an Autism Friendly Visitors Guide, should you wish to share it with your delegates.
Keep Safe
We are proud to be a Keep Safe premise, meaning that we will provide help, if required, to vulnerable people when they are out in the community. Find out more about the Keep Safe initiative.
If you'd like to find out more about accessibility at the EICC and how we can work with you to make your event as accessible as possible, don't hesitate to get in touch with us.
Everyone's Edinburgh
The Edinburgh Tourism Action Group has created a guide called Everyone's Edinburgh, which provides information and tips on how to make your business more inclusive. The Everyone's Edinburgh guide can be downloaded here.
---
For more information on accessibility at the EICC, see our Disability Access page. If you have any specific questions that aren't covered on our website, please feel free to contact us.