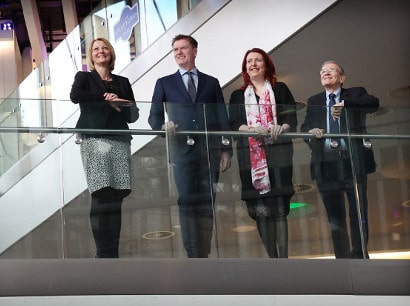 Edinburgh, 19 March 2019
The EICC has reported record results for 2018, with operating profits at £1.4 million (2017: £1.2 million) for the year to 31 December 2018. Revenue figures of £11.8 million (2017: £11.2 million) were achieved during the financial year while economic impact reached £58.1 million (2017: £55 million), with visitor numbers totalling over 300,000 to the venue over the 12-month period. 
Marshall Dallas, Chief Executive of the EICC, said: "It's encouraging to have built profitability over the last three years, particularly when you consider we achieved this from a negative base back in 2014 when the venue reported a £1.5 million operating loss."
During 2018, the EICC secured some of the world's most significant events, including TEDSummit 2019, whilst growing both national and international corporate and association business.  With association business accounting for 60% of turnover this globally recognised industry contributes not only to the EICC but to the wider knowledge economy of the city, attracting the world's leading thinkers in fields such as life science and technology. The venue has also enjoyed a significant growth in business from the international corporate market where revenues have increased 161% during 2018, with key successes in both financial and tech sectors.
The results have been underpinned by a number of strategic and tailored activities, including attending key trade shows around the world to ensure Edinburgh is prominent in buyers' minds. At IBTM World (a leading global event for the meetings industry) in November, the EICC saw a record number of appointments which offered positive indications of interest from prospective international clients.  Despite some wider industry concerns around the impact of Brexit, the EICC has grown European association business while continuing to develop revenue streams outside Europe, including in North America and China.
Marshall Dallas said: "We have invested heavily in the sales team over the last couple of years and this is now paying dividends.  While UK and European association conferences remain integral for EICC, we've increased our activities outside Europe, which we believe to be a prudent measure in the face of the uncertainties surrounding Brexit.  We have also worked hard to gain an even better understanding of our customer's expectations, and this has resulted in the introduction of more flexible conference packages, as well as investments in our technology and our environment practices."
Highlights of 2018 have included Michelle Obama speaking at the EICC in July; the World Youth and Student Travel Conference in September, the Linux Foundation's EU Open Source Summit in October; and during what was Scotland's Year of Young People, the second intake of students commenced the UK's first MSc in Business Events Management - a Masters' Degree which was developed in partnership between the EICC and Edinburgh Napier University.  This month, at the Scottish Thistle Awards, the EICC won Best Business Event for the European Orthodontics Society conference, held at the venue last June.
Looking ahead the EICC team are in preparation for the 2019 TEDSummit which is set to attract over one thousand guests from across the globe, who will contribute around £5 million to the local economy. Commenting on the forthcoming event, Marshall Dallas said: "Winning the 2019 TEDSummit was a big coup for the EICC and the city.  It demonstrated that collaboration between the Scottish Government, VisitScotland and various city partners can achieve really successful outcomes, which was particularly evident having secured the event against strong competition from across the globe."
Dallas credits much of the EICC's recent successes to a refreshed mission statement launched during the second half of 2017: "Our mission statement is 'to create an environment which inspires ideas that change the world' and this runs through everything we do. It is inspiring to see the positive impacts this has on the experience of our clients, delegates and colleagues."