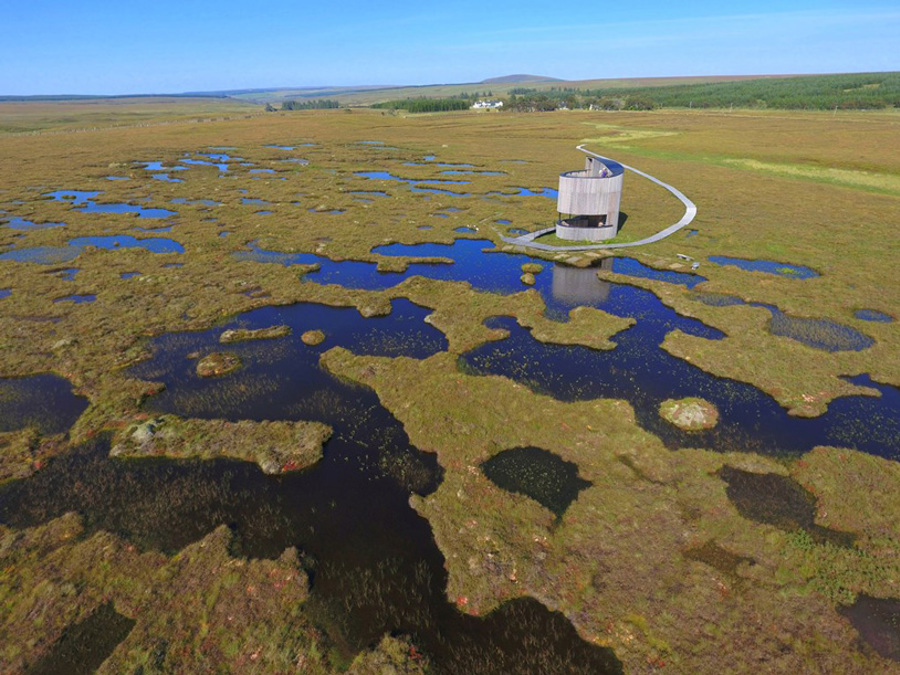 Defined by NASA as "reducing and stabilising the levels of heat-trapping greenhouse gases in the atmosphere", carbon mitigation is an incredibly important factor in the global effort to tackle climate change.
Photos courtesy of RSPB Scotland
Aiming to benefit the environment by sucking up CO2e and supporting flora and fauna while improving the health of Scotland's water, carbon mitigation also makes up one of the three central pillars of the EICC's Step Change Sustainability Programme. 
The other two pillars consist of our "Desk to Door" scheme, which actively aims to limit the carbon impact of delegates coming to the city for events, and our "Event Impact Reports" provide clients with data to make informed sustainability decisions when planning for the future. 
"Driving forward our sustainability agenda"

"RSPB Scotland is the perfect partner for this as they are an amazing, science-led organisation doing real, impactful work"
As an events venue, we're aware of the adverse environmental impacts associated with holding events and we want to be as proactive as possible in reducing our overall impact. "Securing this final piece of the puzzle has been key in driving forward our sustainability agenda," explains the EICC's Sustainability Programme Manager, Aaron McKeen. "We're embarking on a journey with our clients to engage and invest in a cause that will make a difference, and will ensure that business events are a vehicle for positive change.
"RSPB Scotland is the perfect partner for this as they are an amazing, science-led organisation doing real, impactful work in restoring vital habitats. The EICC and RSPB Scotland collaboration ties in with our programme perfectly, as Step Change is about making real quantifiable progress. It is all about making genuine change to ensure business events can minimise their environmental impact, and ultimately become part of the climate emergency solution," he says. 
Complementing the UN's sustainable development goals (SDGs)
The EICC's new collaboration with RSPB Scotland ties in with our commitment to support the UN's SDGs; in particular 13) Climate Action, 14) Life Below Water and 15) Life on Land. The partnership also touches on several of the other 17 SDGs, such as "Clean Water and Sanitation", "Responsible Consumption and Production", "Decent Work and Economic Growth" and the all-important "Partnership for the Goals".
The close alignment with the UN's SDGs is part of the reason that this project is so important to us. It has a wide impact, and bolsters so many important aspects of sustainable development.

Embracing and honouring Scotland's wilderness 
You might be wondering how the issue of habitat restoration ties into the EICC as an event venue. A lot of it comes down to our connection to the environment, and acknowledging the part that the events industry plays in putting it at risk, says Aaron.
"To learn the extent that our precious and unique land has been degraded by our own activities is troubling … we will be using our business to help in righting some of the wrongs committed against our wetlands."
"We Scots are people deeply linked with our land. Scotland is one of the remaining places in western Europe with a wilderness - with some of that land being of international importance due to its rarity and the species that depend on it. Our land also influences our food, our drinks, our myths, our stories, our culture, and our characters. In fact, at the EICC all of our auditoria and function spaces are named after some of the great hill regions of Scotland.
"To learn the extent that our precious and unique land has been degraded by our own activities is troubling and humbling. So rather than continue with business as usual, we will be using our business to help in righting some of the wrongs committed against our wetlands."
The Significance of Scotland's peatlands
Working through five main work areas: science, species, places, people and policy, the RSPB works to protect habitats, save species, and help to end the nature and climate emergency.
Peatlands are an extremely valuable but under pressure habitat. Scotland's peat soils store 25 times more carbon than all of the UK's forests put together, making them incredibly important in the fight against climate change.
"Working together, the RSPB and the EICC can achieve so much more nature restoration than we could separately, when we can have a real and substantial impact for peatlands, and the wildlife and people who depend on them," says Seonaid Mason, Senior Development Officer at RSPB. 
"With the generous funding from the EICC, we can begin to reverse the damage caused by drainage and the planting of non-native forestry on our peatlands, and take pride in Europe's largest expanse of blanket bog once again. The legacy of this vital work will be felt for as long as our restored blanket bog is left untouched, and it'll help fight against the twin crises of climate change and biodiversity loss."
In addition to being an integral arsenal in the fight against climate change, peatlands are a priority for biodiversity conservation, and provide an internationally important habitat for some iconic species. These include the Black Throated diver, Greenshank, Dunlin, Hen Harrier, Sphagnum mosses, lizards, dragonflies, frogs and other aquatic invertebrates. 
Peatlands also have the potential to be a natural solution to reducing greenhouse gas emissions, improving water quality and reducing the flood risk to neighbouring communities.
"Peatlands, and particularly the Flow Country, which is where the majority of the EICC funding will be used, have enormous societal and economic potential beyond climate change and biodiversity loss," continues Seonaid. "The Flow Country is a huge area of land, and there are many people dependent on the sustainability of the land for their livelihoods - whether that's farming, crofting, or tourism. There's currently a bid for the Flow Country to become a World Heritage Site, which shows how important it is to Scotland's tourism industry, and how vital it is that we restore and protect the area." 
There's also a significant health benefit to spending time in nature, with recent research, commissioned by the RSPB showing a correlation between exposure to nature and improved physical and mental health, life satisfaction and pro-environmental behaviours.
Next steps to support our Step Change strategy
The EICC will continue to evolve and improve our Step Change sustainability programme as time progresses, and we are always looking for new partners to help us minimise the carbon footprint of delegates travelling to Edinburgh. We'll also strive to keep improving measurement techniques as we deliver our "Event Impact Reports" to more and more clients.
Now we have our carbon mitigation scheme up and running, we'll be paying close attention to how that develops and to how we can make an even greater impact.
"For the EICC, we're increasing our efforts to retrofit the fabric of our building and to lower electricity consumption," says Aaron. "This is a major, multi-year programme of works that will be necessary to improve and future-proof our iconic venue. We're also getting geared up to releasing our first ever sustainability report – which we'll do later this year."