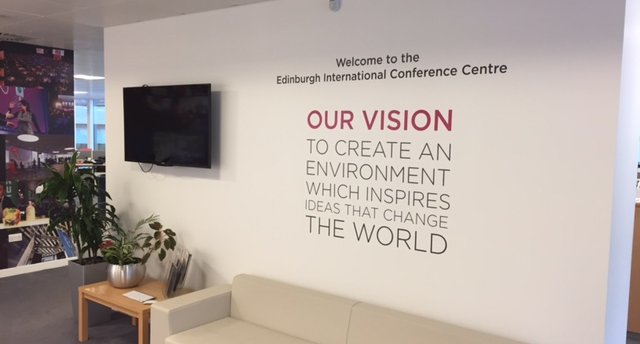 The end of the year is a good time to reflect on our highlights, and what we want to improve on, as well as look forward to the New Year.
This year has been a landmark year for the EICC – which is an added incentive to make 2018 even better. We've packed a lot in this year, scored many firsts, won awards and cemented our commitment to being the best we can be by introducing our values team and also our new vision – to create an environment which inspires ideas that change the world. Our desire to create not only the most sustainable conference venue in the world, but also be a platform for ideas that change the world has paid dividends as we experienced another record year in 2017 and welcome more events and delegates than ever before.
This year we have seen the start of that vision coming to fruition – we've seen some of the best and brightest people from all over the world come through our doors to share their knowledge and discuss ideas. Some of the highlights include hosting former US president Barack Obama back in May, the Nobel prize winners we hosted at the Institute for New Economic Thinking 2017, sportsmen like Mark Beaumont, and Scottish Sportsperson of the Year and Para-athlete of the Year Sammi Kinghorn at the Team Scotland Awards. As well as celebrating their many impressive achievements, we've also had the chance to be inspired by their perseverance and determination and apply their pearls of wisdom to our own working lives.
2017 has been a year of new partnerships. We teamed up with Edinburgh Napier University to offer an MSc in Business Events and took in our first students in the autumn. Over the next few years, we will share our knowledge on how to run first-class events and hope to encourage and usher through the next generation of event professionals.
We kicked off Edinburgh's busy festival period with a special Innovation Festival event, hosted by Fiona Hyslop with the three festival directors, celebrating the 70th anniversary of the festivals. Although we've hosted Edinburgh International Fringe events for many years, this summer saw us forge a new partnership with the New Pleasance to bring even more festivals shows to the EICC. We held our first ever circus act – the acclaimed Cirkopolis, and also a live play showing of Trainspotting in an abandoned train tunnel underneath the building.
Scotland's capital may be best known for its arts festivals, but Edinburgh is also leading the way in Artificial Intelligence, and we heard from the scientists changing the way we live when we hosted the European Robotics Forum in March, as well as hosting a public lecture on robotics from our Innovation series.
As well as AI, Edinburgh is a tech hub and we hosted Engage Invest Exploit in May, where over 250 high growth tech organisations were introduced to investors. Since its inception, EIE has raised over £400 million, and is truly a powerhouse of a champion for Scotland's tech companies.
As well as forging new partnerships, we haven't forgotten our "auld acquaintance" and continue to host conferences for our longstanding clients -  the annual Pension & Lifetime Savings Association Conference was held in the EICC for the 16th time in a row and has signed up until 2021.
We're not ones to rest on our laurels and we've had a lot of firsts this year – for the EICC and also for Scotland. We hosted our first carbon neutral event for Edinburgh Anaesthesia's Festival. Sustainability is important to us, and our clients also want to leave a "legacy" after hosting their events and conferences in the EICC, so it was only natural to offset our carbon
On the back of this achievement, we were awarded the prestigious SEAL Business Sustainability Award in its inaugural year – an international prize we shared with only a few other handpicked companies. While we are proud of our achievements, it only makes us realise how far the industry has to go to truly align our business with sustainability – which only makes us more passionate.  
It's not just tech, medical and business events here at the EICC. We also celebrate and support Scotland's sporting events – and for a small nation we are punching above our weight. We hosted "the Scottish Sporting Oscars" as its known as in September – Team Scotland 2017, which honours Scotland's athletes. In October, we also held a very special (and sold out) Innovation Endurance with Mark Beaumont. He talked about his round the world trip and the meaning of endurance – an inspirational evening that proved that success is a mindset!
All in all, 2017 was a great year for us. We experienced a sharp increase in UK and international association business heading to Scotland's capital and, together with an upswing in corporate business, we expect to report another record year with event and delegate numbers up again following the most prolific year in the venue's 22-year history in 2016.
Let's make next year even better!