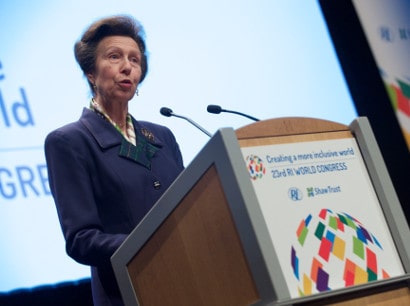 First Minister of Scotland, Nicola Sturgeon, HRH Princess Anne and Stephen Hawking opened the 23rd Rehabilitation International (RI) World Congress, at the Edinburgh International Conference Centre.
The venue saw 1,000 delegates - including researchers, policymakers, practitioners, government officials and RI members - assemble over the course of the three-day event (25 -27 October 2016) to discuss and advocate empowerment and inclusion for disabled people across the world. RI Global works towards these ends by campaigning for laws, policies and practices that respect and empower people with disabilities. This year's host partner is Shaw Trust, a leading disability and employment charity in the UK.
By the end of the week the venue will have seen more than 50 wheelchair users in attendance, as well as a large number of other disabled delegates. Ahead of the event the EICC undertook a full accessibility audit which has led to a series of enhancements being implemented at the venue, along with the commencement of company-wide disability awareness training, to improve the standards of overall accessibility.
Marshall Dallas, the EICC's Chief Executive, said: "Every level of the business has received disability awareness training in the lead up to the RI World Congress, a process we will continue to invest in at the EICC so that we can take the lessons we have learned as a team not only beyond this conference but in our everyday lives and out into the wider community."
Roy O'Shaughnessy, CEO of Shaw Trust, which is hosting the conference in Scotland, said: "The theme of this year's RIWC is inclusion, so it was only fitting the event should take place in the EICC. The venue's recent investment in facilities to meet the requirements of people with a variety of disabilities, showcases the positive impact small changes organisations can make to become significantly more accessible and accommodating to disabled people."
Euan MacDonald, co-founder EuansGuide, said: "I'm delighted to welcome the many RI Congress delegates to my home city. It's been great to see the preparation work Edinburgh has done to make the destination more accessible to disabled visitors and hope this event will kick-start further progress. I'm excited about the Congress as it has potential to open global conversations on how to improve the lives of disabled people and make their voices more strongly heard."