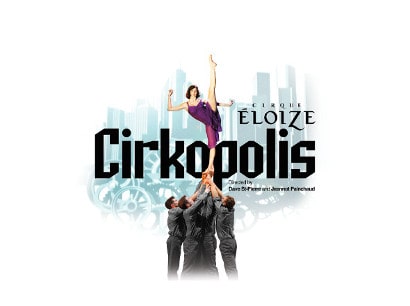 With a Cold War aesthetic, a video game vibe and startling acrobatic acts – it's safe to say this is not your average circus performance.
Even before the show has begun, two of the cast have infiltrated the audience setting the tone for the evening. It's a fun, surprising, creative performance and draws gasps of amazement and awe from the audience.
Cirkopolis is heavily influenced by Charlie Chaplin's epic sci-fi film Metropolis, as evidenced in the name. What makes Cirkopolis unique isn't just the dare devilry and skill of the acrobats, but the graphics used in the large screen. It feels like you're in an avant-garde video game, or even a Berlin nightclub. Constantly moving, showing sci-fi vistas like industrial estates or abandoned Romanesque architecture, it gives an added bleakness that makes the feats of acrobatics stand out even more.
There's more story than most circus performances – surprisingly it's about the daily grind. The main character is former acrobat Ashley, who is stuck in a grim office, with an ever-growing pile of papers to stamp, hassled by colleagues and bullied by menacing men in coats.
But it's not all corporate doom and gloom. Ashley has a clownish lovability to his personality, and there's sharp humour sprinkled throughout the performance. The show is interspersed with softer moments, too. The heavy industrial vibe, oppressive marching and Russian Cossack dancing is offset by the female fliers, decked out in floaty, bright dresses, bringing colour and softness.
The outstanding acrobatics is a major draw. The coterie of acrobats, flier and jugglers put on impressive and highly choreographed displays of strength, skill and nerve. One acrobat, upside down on the Chinese pole, drops down at great speed and stops with his head mere inches from the floor – terrifying the audience. There is a joi de vivre in this Tron-esque world, using French music and the performers' sense of humour and even shadows to lighten the mood.
One of the most impressive interludes (of which there are many) is one of the acrobatic fliers twisting her body into knots with the circus tent rope as the projection of the skyline in the background soars up – and then suddenly crashes. There's a filmic feel to it, but it also opens it up so you feel like you're outside and she's really flying.  
Cirkopolis by Cirque Eloize is showing at EICC until 28 August - tickets are available here