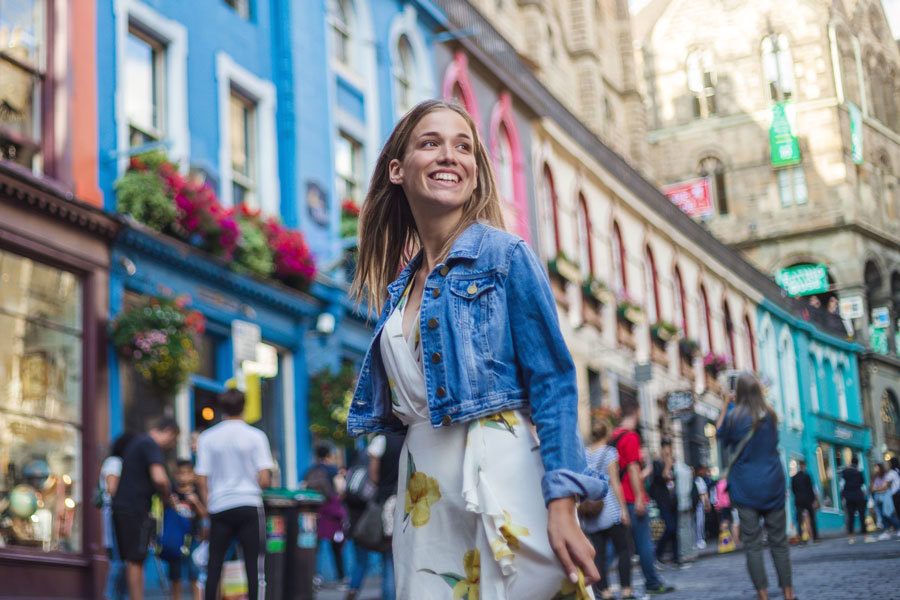 History, culture, scenery – we all know there's never been a shortage of reasons to visit Edinburgh. But as we build back from the pandemic, exciting new additions to the city mean it's time to put Edinburgh at the top of your bucket list in 2022 and beyond. From travel to accommodation to events, this list will give you a flavour of the latest that Scotland's capital has to offer this year.
GETTING HERE:
Lumo East Coast Trains
First things first – how to get here. The new low-cost Lumo trains between Edinburgh and London provide a brilliant option. Modern interiors, airline-style seats, reading lights and top-class onboard food make travelling by Lumo exceedingly comfortable for a budget travel experience. There's free WiFi, too, and the LumoGo app gives guests access to hundreds of TV shows, films, news, sport and podcasts. They have a great onboard catering service, with a range of delicious food which can be pre-ordered and brought to you at your seat. Providers include M&S food, UpperCrust and Pasty Shop, and 50% of the menu is plant-based. From just £19.90 for a one-way ticket, Lumo is a fantastic option for those on a budget and a great low-carbon alternative to taking a flight.  
WHERE TO STAY:
voco
Discover the West End of Edinburgh by booking a room at the voco Edinburgh Haymarket – a modern hotel that puts convenience first without compromising on quality. Newly opened in 2021, the hotel is just a few steps away from Haymarket station and three minutes on foot from the EICC. voco offers a whole range of charming touches: distinctive design, cosy bedding, luxury amenities and delicious food. The Blossom Restaurant & Bar is the perfect place to unwind your mind after a long day of work or sightseeing. The menu is inspired by foods from all over the world and is crafted using the finest seasonal Scottish ingredients. 
Virgin Hotels Edinburgh - Opens 1st June 2022
Situated in the historic India Buildings, the soon to open Virgin Hotel in the heart of Edinburgh's Old Town marries the city's historic architecture with contemporary design. It is located just a few minutes' walk from Edinburgh's top attractions, including the Castle, Victoria Street and Greyfriars Kirkyard, and less than a mile from the EICC. Inside the hotel, you'll find "a world that revolves around you". Leave your luxurious "chamber" to explore numerous drinking, dining and entertainment options, including sophisticated bars and intimate lounges. You can even bring your dog, with pet beds that promise to be just as comfortable as the human ones. 
Gleneagles Townhouse
Bringing world-famous Scottish luxury from the countryside to the heart of the city, Gleneagles is to open its first city hotel, all-day restaurant, roof terrace and members' club in Edinburgh's St. Andrew Square. Highly anticipated restaurant The Spence is to be headed up by one of Scotland's most exciting young chefs, with a menu rooted in "classics with a modern twist". On the roof terrace bar Lamplighters, you can order an expertly crafted cocktail whilst enjoying stunning views over the city. There will also be a luxury gym and wellness centre on site, as well as a variety of unique, characterful spaces to meet, celebrate and exchange ideas. The hotel is set to open its doors in Spring 2022.
Hospitality and Entertainment:
St James Quarter
Situated near the east end of Princes Street and just a stone's throw from Waverley Station, the newly opened St James Quarter is Edinburgh's new shopping and entertainment haven. Inside, you'll find a host of shops previously absent from the city, including Hamleys, & Other Stories and The Lego Store. There's more than just shopping though – there's plenty to keep you entertained, including an Everyman cinema and Lane 7, a bowling alley and arcade that will keep you occupied for hours. And when you need to stop for a drink or a bite to eat, the options are endless – the cuisines on offer range from pizza to pho, burritos to sushi, and The Alchemist provides unique and creative cocktails. It's no wonder 'Eat, Drink, Shop, Discover' is the St James Quarter's motto!
Johnny Walker Experience
Located on Edinburgh's Princes Street, the Johnny Walker Experience is an immersive experience that pays homage to one of Scotland's most iconic whisky brands. Whether you're a seasoned whisky fan or a newcomer, the tour offers a whisky experience like no other. An expert guide takes you through a thrilling journey from Johnny Walker's humble beginnings to its stronghold as the world's favourite whisky today. You'll try several different whisky drinks, based on a flavour personality unique to you. Central to the experience is the idea that there is no right or wrong way to enjoy whisky. Visitors are encouraged to enjoy it whatever way they like, whether that's neat, with a mixer or in the form of a cocktail. Even if you miss out on the tour, the Johnnie Walker Experience is well worth a visit. The Rooftop Bar has spectacular views of Edinburgh while the Explorers' Bothy Bar offers luxurious food to be paired with their range of 150 special bottles of whisky. 
Events and exhibitions:
Van Gogh Alive Experience
Opened in Edinburgh in March 2022, Van Gogh Alive offers the chance to see some of the painter's most iconic works come to life. The exhibition, which has already welcomed 8.5 million visitors in 75 cities worldwide, will be situated at Edinburgh's Festival Square for a four-month run. Dubbed a "4D immersive gallery" and a "multi-sensory experience", the exhibition features over 3,000 images and an evocative classical score composed to bring Van Gogh's work to life. Highlights include a life-size recreation of Van Gogh's famous Bedroom in Arles painting and a mirrored room with hundreds of sunflowers. As the preview states: "At Van Gogh Alive you don't just look at his paintings, you step inside them and feel their power." Book tickets in advance to ensure you don't miss out on this unforgettable experience. 
Edinburgh International Science Festival 2022 – 9 - 24 April
The 2022 Science Festival looks at some of the most pressing scientific issues of our times – from personal health to the climate crisis to our place in the universe. The festival will take place across the city, at venues including the National Museum of Scotland, Edinburgh Zoo and the Royal Botanic Gardens of Edinburgh. With a programme chock full of talks, panel discussions, interactive sessions, open-air exhibitions, film screenings and more, the Edinburgh International Science Festival is likely to inspire revolutionary ideas and solutions that will change the world. As Festival Director Amanda Tyndall said: "It's a celebration of the role that science and technology play in our lives – bringing people together, creating new experiences, sharing the joy of discovery, shedding fresh light on the key issues shaping that future and celebrating the human spirit."