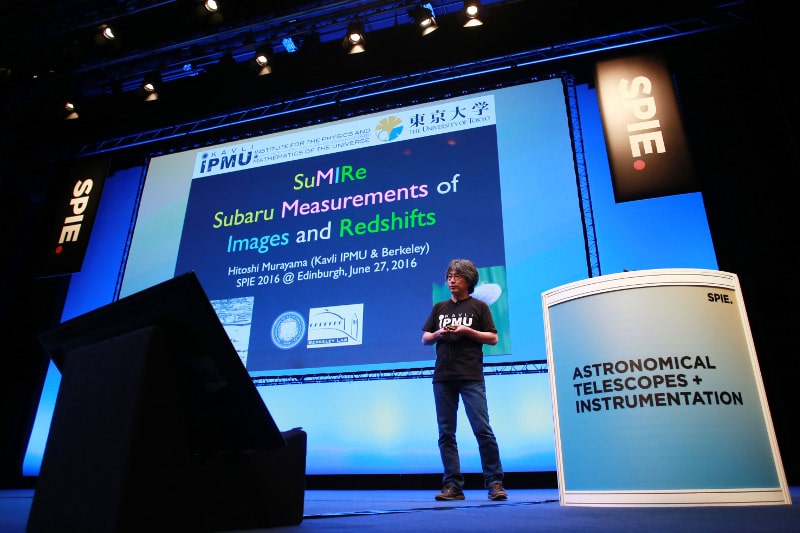 The world's leading developers of ground and space telescopes and technologies jet into Scotland this week for the internationally renowned SPIE conference. Taking place over 6 days at the EICC, the latest technology and equipment will be showcased while some of the world's leading authorities on astronomy will discuss technological advances and industry trends with over 2,400 delegates at an association conference that is expected to contribute £4.85m million to the local economy. Highlights of this year's SPIE conference are expected to include:
Lectures on telescope inventor James Gregory and on the search for and recent discovery by LIGO (Laser Interferometer Gravitational-wave Observatory) of gravitational waves predicted by Albert Einstein will be open to the public as well as conference attendees.
Hitoshi Murayama, University of California, Berkeley, and Kavli Institute for the Physics and Mathematics of the Universe, University of Tokyo, on studying the birth and the fate of the universe using multi-object spectroscopy.
Martin Hendry, University of Glasgow, on the search for high- and low-frequency gravitational waves from ground-based laser interferometers and space borne detectors
George Helou, California Institute of Technology, on visionary space telescope projects, challenges, reach, and their promise to help rethink the universe
A two-day exhibition (Tuesday and Wednesday) with more than 120 exhibiting companies
Marshall Dallas, the EICC's Chief Executive, said: "Going back to Scottish astronomer James Gregory who came up with the idea of the first reflecting telescope and right up the present day when you look at organisations like The Royal Observatory in Edinburgh, or the fact that Scotland has the UK's first Dark Sky Park in Galloway, astronomy and related technologies remain an important part of Scotland's offering to the rest of the world. SPIE is integral to the work taking place in the industry around astronomy and it is a great pleasure to have the team and their delegates in Edinburgh this week."
"Astronomy is an international, highly collaborative science, and this meeting series consistently brings together the largest number of the world's telescope builders to share information in person about current and future projects," said Rob Whitner, SPIE Astronomical Telescopes and Instrumentation Event Manager. "We are delighted to bring this conference to Edinburgh, with the region's rich history and ongoing leadership in astronomical research and discovery. The EICC is a world-class facility and the support from the city has been terrific. This year's meeting is the best-attended in the event's history, due in part to the appeal of Edinburgh itself."