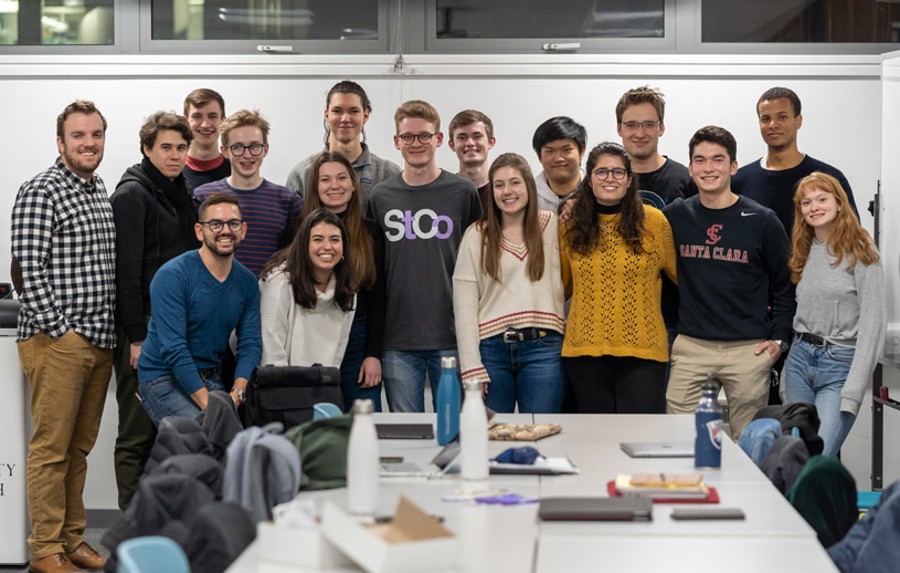 At the EICC, we understand that events have the power to change the world. The ideas and inspiration that are born within our walls don't stop when the event has come to an end. Here's a story of collaboration that made us smile – and reminded us why the conversations we play host to are so important
Since 2016, we have been running a series of free public talks that celebrate the best of innovation in Scotland. Through EICC Live, we aim to welcome our community, to educate and inspire people from all walks of life, so that the people of Edinburgh can have pride in the EICC and the work we do. Sharing great knowledge, ideas, and innovation is central to all of our endeavours: we want to create a legacy.
In June 2019, Jacqueline Lambiase, Professor and Chair of Strategic Communication at Texas Christian University (TCU), was visiting Edinburgh with a group of her students on a study abroad trip. One evening, they came along to the EICC Live Hyperloop event, almost by accident, and were intrigued by the set-up of HYPED, the University of Edinburgh's Hyperloop team. "One of our students asked a question about how the different groups in Hyperloop communicate," says Jacque. "That's when we discovered that the HYPED team were experiencing some issues in that department – in fact, some of them had never met in person before. My students wanted to help."
"A big struggle for HYPED has been passing leadership from one group of students to the next. But they have got some really great members, and were smart enough to admit they needed help"
Jacque gave her business card to three students and invited them to get in touch - not fully expecting anything to come of it. To her delight, however, HYPED's Head of Sponsorship, Oliver Clark, reached out to her in August, after which Jacque set to work designing a course based around the collaboration, to begin in the spring semester. The course, called 'Campaigns', provides a fantastic opportunity for Jacque's students to work with a real-world client, as well as to experience communications in an international setting.
Communication is king
On 31 January 2020, Jacque and the 'Campaigns' students flew to Edinburgh to begin their work with the HYPED team. This involved learning about what HYPED are setting out to achieve, interviewing team members and observing their meetings, as well as coming together for a social mixer. "It was so important for us to learn about the students and to develop trust," says Jacque. "HYPED is entirely student-led, with no involvement from faculty leaders. I think a big struggle for them has been passing leadership from one group of students to the next. But they have got some really great members, and they were smart enough to admit they needed help and to reach out to us."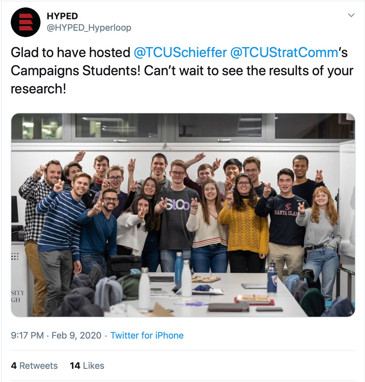 For Jacque, this is key: that the students in HYPED are learning about the value of communications at a crucial stage in their learning. "Internal communication is absolutely vital in any organisation, but it is so often overlooked. Even huge organisations like NASA struggle with this – they've had some critical failures because of poor communication. The members of HYPED make a brilliant team and I'm sure that they are going to go far, and work on many hugely important projects, so I believe it's vital that they go into their careers with this experience and understanding."
Making an impact
In a survey of how working on HYPED made its members feel, the TCU students found that the number one response was 'anxious'. Many expressed a desire to become friends with one another. Hopefully the collaboration with TCU will be of benefit to not only their work, but their enjoyment of the work, too. Strong communication can be at the heart of this.
"This whole experience came about because the EICC provides an open forum for these kinds of interactions," says Jacque. "The EICC acts almost like an educational institution, seeing it as a responsibility and a duty to invite people in and foster ideas and dialogue. Heavens knows we need as much of that as we can get, in the kind of world we're living in.
"Aside from the fantastic opportunity that arose for us as a result of the EICC Live event, it was also just fascinating to hear students talk about what they were doing and why it mattered – not just for transportation, but for our planet, too. It truly expanded all of our minds."
Do you know an example of collaboration or innovation which has been sparked at an event here at EICC? Please get in touch – we'd love to hear it!