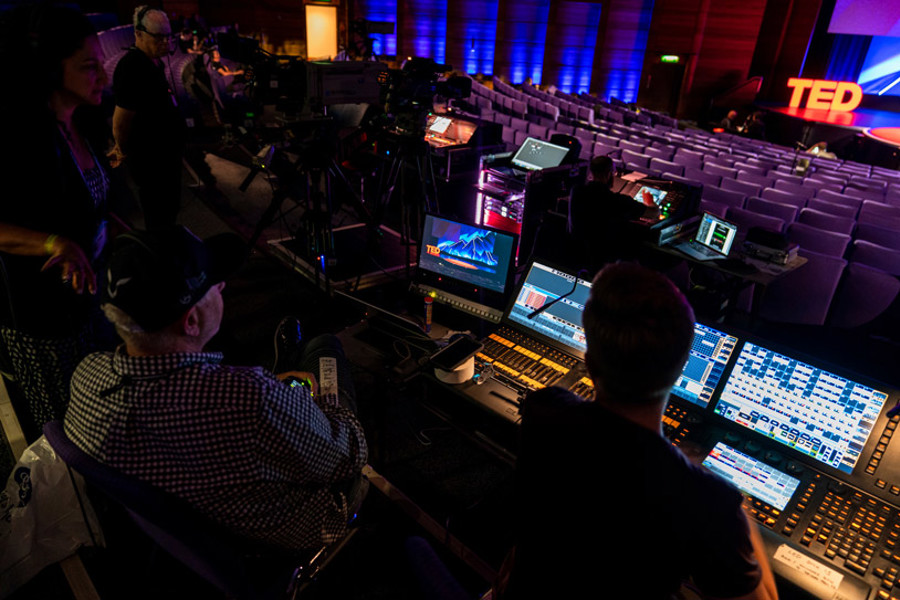 Photo: Bret Hartman / TED
Amidst significant investment into technology at the EICC, we introduce the newest members of the Technical Production team
Keeping up with technology can be challenging. New devices, apps and systems are being launched at a rate that all but the most tech savvy of us can find daunting. Invisible smartphone keyboards, augmented reality sunglasses and robot cats are just a few of the products unveiled at the recent CES exhibition in Los Angeles. So, how can anyone hope to keep ahead of the technology curve? That status is only conferred to those with the technical expertise and ambition to seek out the latest and greatest solutions on the market.
The EICC has always been at the forefront of technology in the events and conferencing space. Our home in the heart of Edinburgh hosts an array of technical innovations, including the 2013 installation of the world's first nine-way movable arena floor. This allows the Lennox Suite to be switched from a flat floor convention hall to a raked auditorium for 2000 people in just 40 minutes. In line with our proven track record, the latest addition to our portfolio are 10 Roland V-600UHD 4K HDR multi-format video switchers, the very first of their kind to come off Roland's production line.
As technology evolves, new equipment which allows HD and 4K content to sit alongside each other, is essential. And the new Roland switcher does exactly that - combining HD and 4K formats for simultaneous outputs, allowing Picture In Picture (PIPs) on a backdrop. Audiences can see the presentation slides as well as the speaker camera shot concurrently. These functions were previously only available on large budget productions, but the Roland V600 allows these advanced techniques to be accessible for all events at EICC.
Kenneth Boak, Head of Technical Production at EICC, emphasises that it is a combination of technology which makes an event successful – and it is the configurability of the V-600UHD switcher that sealed the deal for their purchase.
"Technology for us is a crucial part of what we deliver, as we know it is of increasing importance to our clients …

we reinvest profits to keep ahead of our clients' expectations

" – Marshall Dallas
"It provides a level of flexibility that we have not previously had across all of our auditoriums.
"A successful event is not down to any single piece of equipment, it's about how one piece of equipment integrates with all of the other pieces to give the best value and best effect for the client. For example, we are buying everything 4K at the moment, and now we have entire channels of 4K available to us thanks to the purchase of the V-600UHD switchers."
"Technology for us is a crucial part of what we deliver, as we know it is of increasing importance to our clients," says Marshall Dallas, CEO at EICC. "When we have clients, who are considering Edinburgh and EICC for an international conference, they are really keen to understand the capabilities of the technology that we have in our rooms. So, we reinvest profits back into our business, to keep ahead of our clients' expectations when it comes to technology."  
Meet the team: Erin Burden and Esme Pringle
Whilst technology acts as the backbone of all our events, it is our Technical Production Team that transforms ideas into reality. Bringing together a broad range of expertise and creativity, the Team collaborates with event organisers to deliver tailor-made, extraordinary visual experiences for all manner of industries and event types. We spoke to Erin and Esme, the two newest members of the team, to learn more.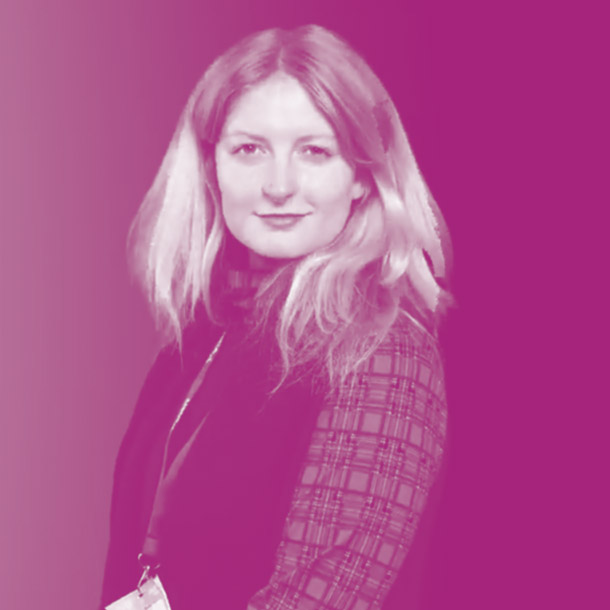 Erin Burden, Technical Sales Executive
Can you describe your new role for us Erin?
I act as one of the first points of contact for new clients when they come to the EICC. I discuss their vision for the event and suggest potential ideas, followed by the necessary technical requirements. I am there to demystify the technical details, which can be daunting when you are organising an event. My role involves demonstrating to clients what can be achieved; that our Wi-Fi is reliable and fast; that our equipment is top-of-the-range; and that our team are experts.
How are you finding it so far?
I have been in the position since September and I am very much enjoying it. As the position was new for me and for the EICC there was a lot to learn, especially since there isn't really a role like it in the industry. Everyone has been so supportive, which has made the role easy to transition into.
What attracted you to the position and to the EICC?
I've worked in Edinburgh events' industry for just over five years now, so I was very familiar with the EICC. I knew they had a strong reputation for memorable, large-scale events. I was looking for something that was a bit different, something new. So, when this role came up, it was quite exciting to become part of such a prestigious space. But also because I knew there was an opportunity to develop the role from the ground up.
In your opinion, what makes Edinburgh stand out as a city in which to host events?
It feels like an ideas space; it feels like very much like the EICC's vision and values as an organisation are embodied by the city of Edinburgh. It is definitely a hub of creativity too, which I like, and I think it's only going to improve in the future.
"Event-goers these days expect to be able to navigate around spaces using their smartphones"
What are some of the key trends in today's events landscape?
I attended the Event Tech Live conference in London last November, where all sorts of new ideas were being discussed. There was a lot of discussion about gamification: the use of games to grab the attention of event attendees and engage them more with the topic at hand.
Interactive signage is also proving popular, as event-goers these days expect to be able to navigate around spaces using their smartphones. There are also a lot of great event apps being released, and with our connections and expertise, we can point clients in the right direction.
How is technology used to support the vision and values of the EICC?
Ensuring we have the technical resources necessary to hold world-class events is obviously essential. And I think that the Technical Production Team truly represent our values, one of which is Knowledge and Expertise; our team know not only how the equipment works but also how best it can be used to deliver impeccable events. This also plays into our value of Meaningful Collaborations; our in-depth knowledge of our systems allows us to communicate to clients and external teams so that we can create the best experiences possible together. Technology is, without doubt, vital to our vision and values.    
Esme Pringle, Technical Production Coordinator
What are your key responsibilities in your new role Esme?
Along with coordinating the administration for the Technical Production Team, I am also involved in planning the visual aspects of events. I work out floor plans with the Technical Planners and also design graphics to bring our clients' events to life.
"I'm learning all about the technology and unseen work which creates that wow factor.
How are you finding it so far?
I absolutely love it! Previously, I was in the EICC's Sales Team and moved into this role in July last year, so it has been very enjoyable learning about the different aspects of the business. My role allows me to bring together things that I am passionate about; creativity, developing client relationships, and sustainability.
It has opened many doors and it has been extremely interesting learning about the different technologies that we have at our disposal. When you're attending a conference or dinner at the EICC, you probably don't think of what is going on behind-the-scenes; so now I'm discovering all about the technology and unseen work which creates that wow factor.
Where do you start with creating a 'wow factor'?
First, we will engage with the client and learn more about their vision and theme for the event. As a team, we'll then brainstorm ways in which we can best convey the intended look and feel. We then present back to the client and receive feedback, and then go from there. It is very rewarding to see something you have put forward up on the big screen at the event.  
How is technology used to support the vision and values of the EICC?
Our vision is to create an environment that inspires ideas that change the world. And I do think that, without investing in technology over time, a plateau is inevitable. Creativity and technology rely on each other to deliver our ambitions. Expanding and growing our technological strength is essential, not only to create first-class experiences but also to spark ideas that may change the world. Technology is the glue that keeps everything together.