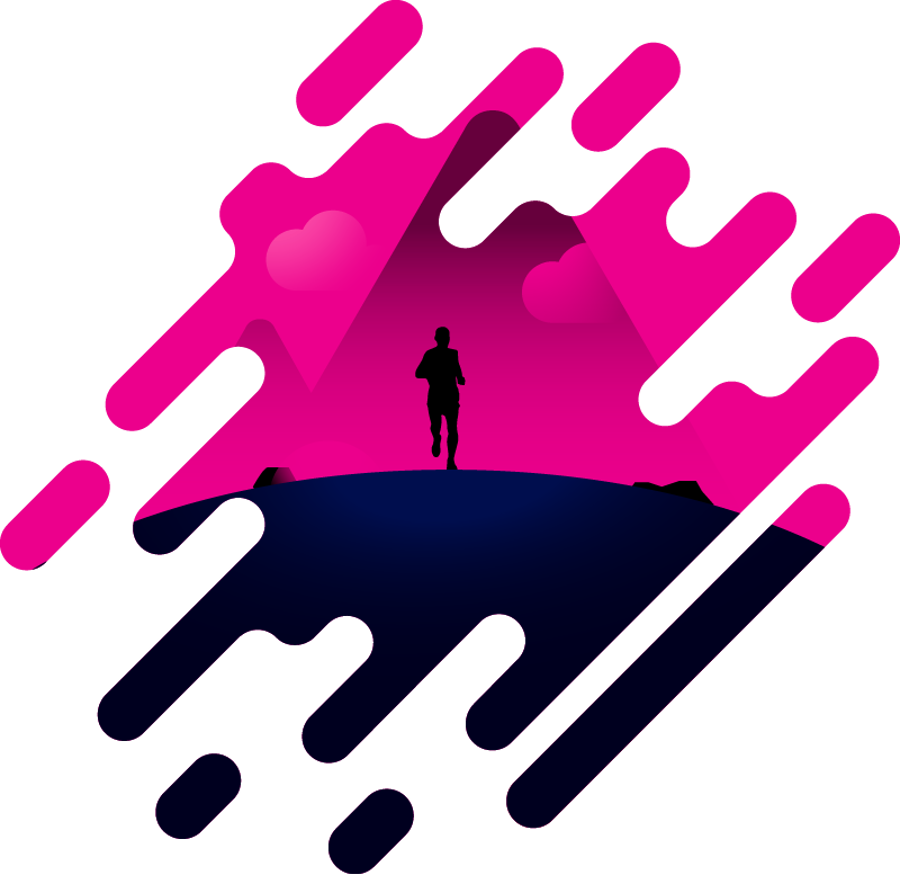 Four event industry professionals share their thoughts on the personal and professional benefits of endurance challenges, beginning with the EICC's very own Chief Executive Marshall Dallas
The benefits of regular exercise to physical and emotional wellbeing are common knowledge. Many of us reap them before or after work, perhaps by running, swimming, or hitting the gym. For some people, though, getting active to the point of regularly pushing physical and mental boundaries has become a way of life, as well as a means of gaining a fresh perspective on business.
Marshall Dallas, the Edinburgh International Conference Centre's CEO, is one such person. Once a keen ultramarathon runner and a veteran of events like the Caledonian Challenge, Marshall now takes to the sea (and Scotland's lochs) four times a week pursuing his passion for open-water swimming.
"I try to swim twice a week at each Loch Venachar and Aberdour Silver Sands," he says. "I tend to swim at Hight tide only as this avoids any problems with quicksand! That can mean leaving the house at 5:30 in the morning, but what a start to the day!"
Beyond these regular sessions Marshall has taken part in numerous open-water swimming events in recent years, including the Lamlash Splash, a 1.4-mile swim from the Westcoast of Scotland's Holy Isle to Lamlash on Arran. His most memorable swim, though, took place deep within the central Cairngorms plateau at Loch Etchachan, the highest body of water in the UK, 3041 feet above sea level.
"We camped the first night then cycled into the Cairngorms as far as possible the next day," says Marshall. "Later, when the trail petered out, we walked to the foot of the plateau and ascended the slopes. Loch Etchachan really is one of the most beautiful sights I've ever seen. It's about a kilometre long and is, by virtue of not having a peat base, absolutely crystal clear."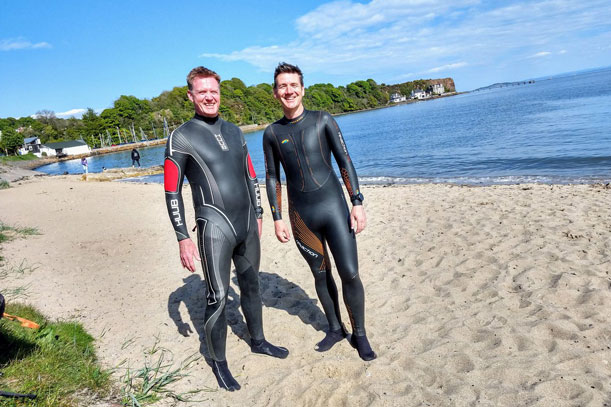 Marshall Dallas with Dougie Vipond, filming at Aberdour Beach for BBC Landward, May 2019 
Mind and body
For Marshall, open-water swimming is first and foremost a physical workout – but there's a significant mental element too. "Open-water swimming gives me a complete sense of well-being," he says. "It sounds strange but the colder the water the better. It really helps me focus my mind. Swimming in cold water takes your breath away when you first enter, so the challenge is to control that and concentrate fully on your breathing and your strokes. Everything else, including any challenges that you've got at work or problems at home, pale into insignificance for that time."
Marshall believes that everyone's got a fight or flight instinct, and that endurance challenges share much in common with the challenges of running a business. "To be a good open water swimmer you need to be able to demonstrate great control, tenacity, concentration and focus. These are the very same qualities that you need when tackling everyday business challenges."
"I'm a pretty positive person generally, but I'm absolutely a much happier and better person after a swim"
Of course, endurance challenges don't need to take place in the open water. Nor do such challenges need to push us to the limits of what we can endure. Marshall believes there is one common denominator in developing skills which are transferable to business and which generally make us more content. And that common denominator, is being outdoors.
"Whether you're swimming, running, cycling, kayaking, climbing or walking, it's being outside that benefits us the most, and I honestly can't think of anywhere more beautiful than Scotland for that," he says. "When you're inside working hard it can get claustrophobic. I really believe that so many people would benefit from getting outdoors more often, just breathing in the air and enjoying it. Open-water swimming has given me an ability to clear my mind, which I've struggled with in the past.
"I'm a pretty positive person generally, but I'm absolutely a much happier and better person after a swim. It gives me peace and quiet, a real sense of well-being in my life, which can be a bit crazy at times."
Off his rocker
Later this year, Marshall is taking part in his most daring swim yet, and a bucket-list challenge of his: the Corryvreckan Whirlpool. Reaching speeds of 8.5 knots (about the cruising speed of a dolphin), it's the third largest whirlpool in the world. To date, only experienced swimmers have done it. The Royal Navy has classified it as 'unnavigable'. Its roar, rumour has it, can be heard up to ten miles away.
Little wonder Marshall's wife and children think he's 'off his rocker' – but that doesn't stop him going out in the midst of winter at 5:30am in the pitch black when there's snow on the ground, getting a swim in before work.
---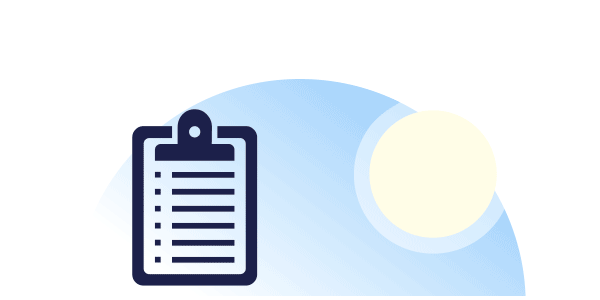 Event professionals by day, endurance challengers by night
The EICC hears from four other event professionals touting the benefits of endurance challenges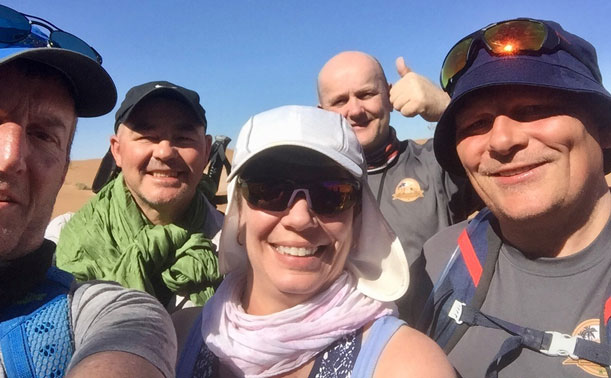 Melinda Matthews-Clarkson, CEO, CodeClan
In October 2018, I met a woman at an event who was training for a charity walk. I have always found charity physical challenges a great way to do something physical and to extend my network, plus do good for a social and diverse group. I asked to be included – although the group had been training since April – and they said yes.   
The challenge was a 100-kilometre hike in the Sahara for cervical cancer. Ten men and three women hiking through the desert. I asked a lot of questions about the guides, the sleeping environment, safety, etc. I thought 'well, if I get hurt then they will either put me on a Camel or a helicopter and I had never ridden in either of those. So, worst case scenario, this would be an adventure."
I trained by hiking through Edinburgh, doing all the steps and long hikes I could fit in and yoga four or five times a week. I didn't know how fit I needed to be as I'd never been in the desert, and the longest hike I had done previously was 68 miles.
The first really big test of the hike came on day three when we were properly out of civilisation. We had all our water and food on camels and we were set to hike 100 kilometres over five days. At the first day lunch, the tour guides were making a lovely lunch and the head of our charity said, "We will never make 100 miles at this rate!" One hundred miles? All the information stated this was 100 kilometres.
"The experience gave me a new perspective of myself and of how hard it is not to lead… I now try to listen more and learn when to inspire and encourage"
Needless to say, 100 miles it was. Water got rationed, the stress went up for others and we could not do the trails the tour guide had planned. We had to do longer wanders on rough terrain and some that were determined to make the 100 miles hiked in circles at night to add the miles.
I survived and was physically fine. I did 88 miles. When I completed the last step I let go and tears streamed down my face. It wasn't the physical; it was me fighting my nature. I could be me again.
The experience gave me a new perspective of myself and of how hard it is not to lead, but we all came out safe for the most part. I now try to listen more, to see how others approach challenges and learn when to inspire and encourage. I think the simple take away is this: when I am feeling like I want to quit my job or am very frustrated with a situation, I put on my headset and pick the Sahara playlist. Those songs got me through 41°C, 18-kilometres-a-dayhike. I then tend to smile, a tear comes to my eye and I say to myself, "Shit, this business issue is nothing compared to that. You got this, Melinda. Think, listen and put one foot in front of the other, because it will end."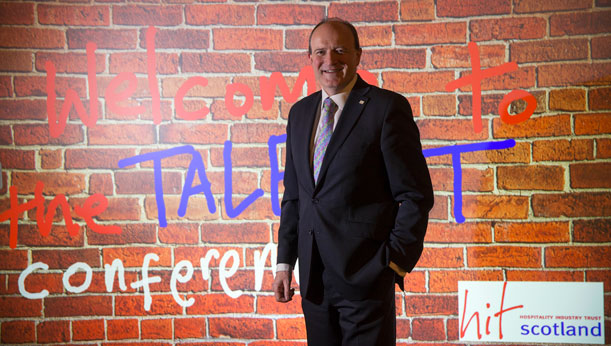 David Cochrane, Chief Executive, HIT (Hospitality Industry Trust) Scotland      
In May this year, a group of 18 individuals from all walks of hospitality in Scotland undertook a challenge initiated by HIT Scotland to climb the mountain region around Macchu Pichu to raise funds for the empowering scholarship programme. HIT Scotland provides inspirational development for individuals working or studying in Scotland and these fundraisers allowed us to provide 212 scholarships this year.
"Everyone gets to the end point and it doesn't matter how you get there, it's getting on board in the first place that's important"

 
The team departed from Edinburgh and landed 24 hours later in Cusco, via Paris and Lima. The challenge involved hiking at high latitude over the course of a week, staying in mountain lodges along the route. At times the altitude reached 4000 metres, and this played a major factor in everyone's abilities to traverse the challenging mountain paths en route.
The challenge gave me a number of insights that I take into my business and personal life every day. These include:   
The power of teams: One can do these adventures solo and gain great benefit. By acting as a team the experience, in my view, is highly enriched. People have different views and opinions and these are healthy when it comes to gaining the all round picture. A shared experience, even a challenging one, can bring people together and the problem solving becomes much more powerful. The trust within a group is vital and this can bring great outcomes when people feel they can open up and ask for help, or help others, especially when the going gets tough!
Having a shared goal (in our case, getting to Macchu Pichu) makes everything else fall into focus.  
You don't always have to be the leader at the front. The mountains taught me that there are some people that always want to drive from the front and some people are happy to walk at a slower pace. Everyone gets to the end point and it doesn't matter how you get there, it's getting on board in the first place that's important.
We're only on this planet for a short time. You have to make the most of every day and every experience.
The people of Peru were wonderful hosts. Their warmth and hospitality reminded me of Scottish hospitality and how making people feel welcome doesn't cost anything at all.
Keep yourself fit and healthy. We were all lucky to get to visit Macchu Pichu and that was despite some challenges with altitude and a few tumbles along the way. Health is our greatest richness so look after yourself and other people.
David on LinkedIn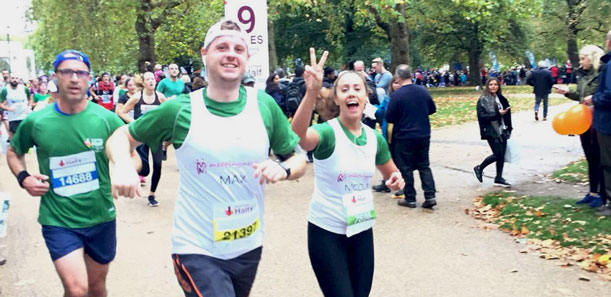 Nicola Roodt, Business Development Manager, Pure Events
I ran a half marathon last year Event's Industry Charity, Meeting Needs. I wasn't sure where I would find the time to train in this fast-paced industry, but I learnt a good lesson: if you set your mind to it and put a plan in place, you can make it happen.
Running the half marathon helped me use my time better and to divide the challenge into smaller chunks. This helped me develop in my role at work instead of trying to do everything at 100 miles per hour. The training helped me to focus and prioritise my 'to do' list, taking one step at a time.
Nicola on LinkedIn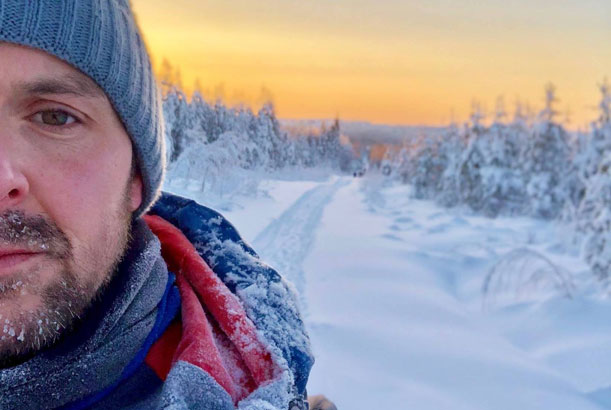 Lee Peyton, Director, Breaking Strain Events
For the past ten years I have either raced or taken part in long-distance multi-day challenges. These started in 2009 when my friend Garry and I cycled, ran and paddled the length of the Western Isles in under three days, visiting each of the 15 inhabited islands in the chain, running to the top of the highest point on each island and kayaking between them. Every winter since 2011 I've raced or trekked in the Arctic Circle or one of the cold regions of the world. This involves walking/running relatively long distances dragging a pulk (sledge) with all my equipment (sleeping bags, food, stove etc).
My company, Breaking Strain Events, offer treks to the Arctic Circle, Alps and in 2018 we started offering Kilimanjaro. That year we took Corinne Hutton to the roof of Africa, becoming the world's first female quadruple amputee to make the summit (an incredible achievement and something pretty special to have been a part of). In the UK I try to run as much as I can and Crossfit, as the functional movements translate really well to both daily life and the treks specifically.
"As a firefighter the incidents were the release, the adrenaline rush, the endorphins… In business, I've found there's no natural release mechanism from the pressure."
Endurance challenges are now my job. In the summer of 2016 I left the fire service where I had been a Station Manager for 15 years, to focus on Breaking Strain Events full time. Being outdoors and pushing myself has been part of my life since I was a child but where before it was for sport, the focus now is keeping fit enough (I'm the grand old age of 41 now) to lead and guide in some fairly inhospitable environments (we've had temperatures below minus 40°C on our Arctic treks and it's important to be mountain fit for Kilimanjaro).
The other element of being outdoors, for me, is about stress management. There's been a lot of research and news lately regarding the positive benefits of being outdoors, whether going for a walk at lunchtime, climbing a hill or going for a run, with doctors in Shetland now able to prescribe nature to their patients.
As a firefighter I can remember a psychologist on a command course asking about how incidents affected us and the impact they have on our daily lives. For me, the incidents were the release, the adrenaline rush, the endorphins released as a result of doing your best and helping people; the main stressors: workload, office work and staffing issues. In business, I've found there's no natural release mechanism from the pressure.
To counter this as much as I can, I try to 'bivvy' (sleeping outdoors without a tent) on a hill as near to once a month as possible. It's an opportunity to re-set, sleep under the stars and reconnect with nature. Alastair Humphreys who was the National Geographic Adventurer of the Year in 2012, wrote a book about microadventures – small scale achievable adventures that anyone can do - with a focus on getting outside. Ben Fogle has repeatedly written about the positive benefits of being out in nature. He wrote in the Guardian that he believes that managers could transform their businesses by spending time outdoors sleeping in a tent as it is time away from work pressures, social media, phones and email and allows people to focus on the things that actually are important.