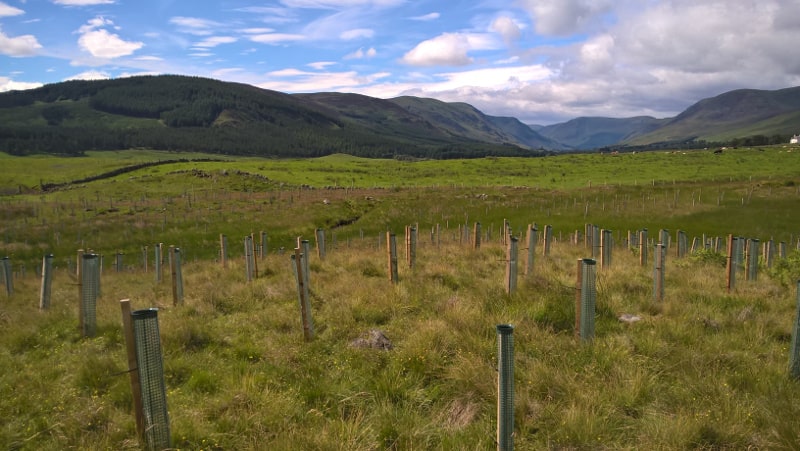 The Edinburgh International Conference Centre (EICC) has partnered with Forest Carbon for a conference first in Scotland with this week's Edinburgh Anaesthesia Festival (EAF) which has off-set the carbon footprint associated with the 3-day event.  The EAF purchased carbon credits, equating to the planting of 185 trees, from a new woodland in the Scottish Borders in recognition of the carbon footprint of the event.  
Forest Carbon, founded in 2007, are the country's leading developer of new carbon woodlands, with over 5.5 million trees planted at 120 sites for environmentally-conscious UK businesses. Ahead of the Edinburgh Anaesthesia Festival (EAF), Forest Carbon, in collaboration with the Borders Forest Trust, worked with EICC and EAF to determine the required level of tree planting to off-set the carbon associated with the event – taking into account factors such as delegate numbers, their travel arrangements and event-related deliveries. 
The EICC has an award-winning reputation, both in the UK and internationally, for its commitment to environmental and socially-responsible practices, and the collaboration with Forest Carbon is the latest of a series of partnerships aimed at improving its offering in this area. 
The EAF will utilise another of the EICC's social partnerships by donating unused pads, pens and delegate bags to Mary's Meals Backpack Project – which aims to provide food and education to some of the world's poorest communities. EAF will also distribute surplus food from the event to Edinburgh's homeless people via Streetwork - a charity which supports the city's vulnerable and homeless people.
Marshall Dallas, Chief Executive of the EICC, said: "We have a long-standing dedication to working with partners like Forest Carbon and the Borders Forest Trust to deliver events that meet the highest possible standards, including social and environmental standards.  With a growing reputation for holding some of the world's leading medical conferences at the EICC, it's fitting that the Edinburgh Anaesthesia Festival marks a first for Scotland in terms of tackling its carbon footprint." 
Karen Grant, Edinburgh Anaesthesia Festival (EAF), said: "As part of our ongoing commitment to environmental responsibility, we have chosen to partner with EICC and Forest Carbon to mitigate the carbon footprint arising from this year's meeting by planting 185 trees in a new woodland in the Scottish Borders.  We are delighted to be involved with this project which gives environmentally-conscious organisations like the EAF the opportunity to invest into UK woodland creation."
The Edinburgh Anaesthesia Festival takes place between 16 and 18 August, with around 300 delegates attending and participating in Scotland's largest anaesthesia event.