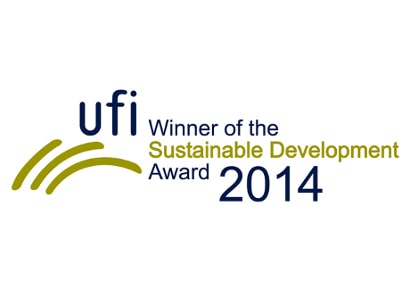 Global exhibition industry body, UFI has handed its 2014 Sustainable Development Award to Edinburgh International Conference Centre (EICC). News of the award comes as the venue's corporate sales team head for The UK Meetings Show where the importance of staging events sustainably is always a topic for discussion with conference and exhibition buyers. UFI recognised EICC's achievement in developing a measurement tool that promotes continuous improvement in the reduction of greenhouse gas emissions.
 
EICC's easy to use analytical tool measures performance and sets benchmarks for the management of energy, waste and CO2e (carbon dioxide equivalent) footprint at the purpose built conference and exhibition venue. Recently doubled in size through a £30m expansion EICC has succeeded in maintaining downward pressure on CO2e emissions per square metre.
 
EICC took the UFI Sustainable Development Award ahead of finalists, Sands Expo and Convention Centre, Marina Bay Sands (Singapore) and Sustainable Events (UK).
 
Commenting on the UFI award win EICC Chief Executive, Hans H Rissmann OBE said:
 
"We are delighted that UFI has recognised our achievement in creating a cost effective measurement tool that promotes sustainability in our business. Keeping these processes simple and at the heart of what we do means customer-driven sustainable development becomes a core competence that will not be overlooked."
 
Award entries from the three award finalists and two additional entries cited as best practice examples in the first round of the competition are available to download at ufi.org/sdaward.