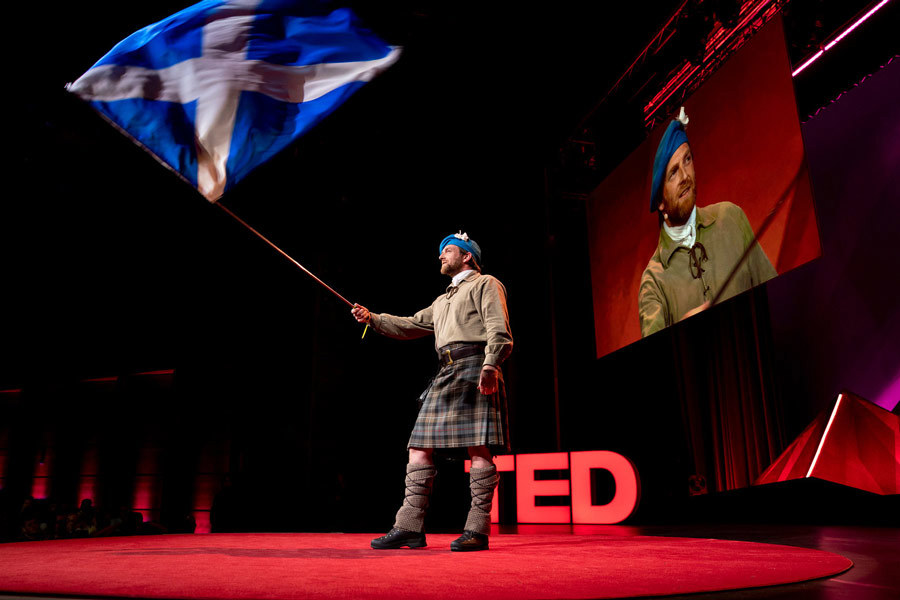 In July we welcomed

thought leaders from 84 countries across the globe for five days of creativity, entertainment, compelling sessions and, of course, TED Talks. The diverse line-up of speakers, including First Minister Nicola Sturgeon, discussed identity, community and visions for the future.
 Photography care of TEDSummit 2019: Bret Hartman / Ryan Lash / Dian Lofton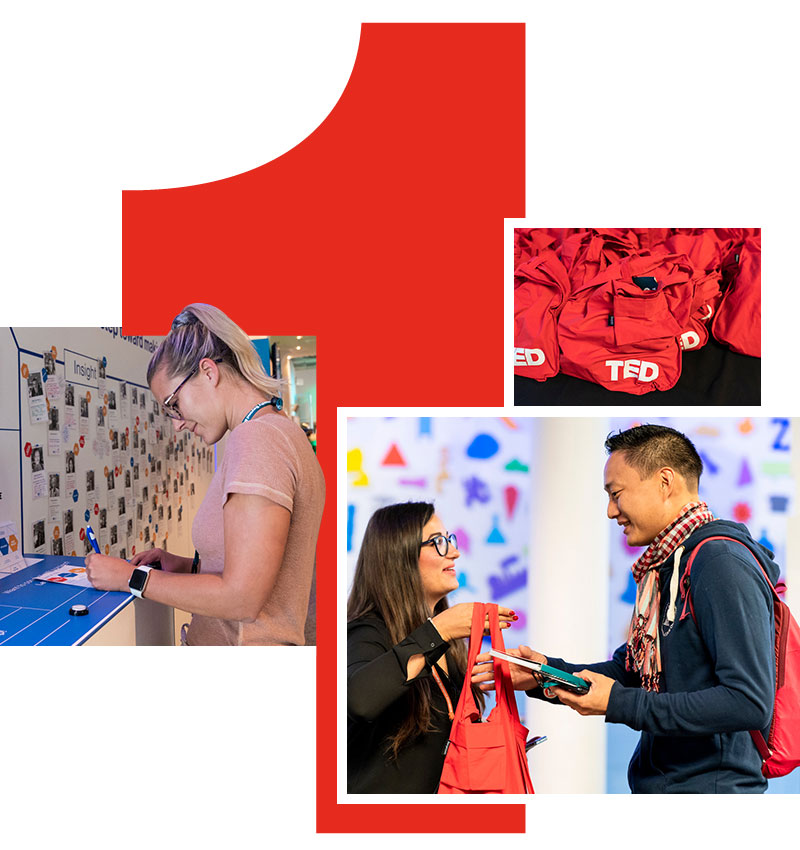 Day One: Weaving community
 TEDSummit opens to a thousand conversations. Jasmeen Patheja, a TED Fellow and artist from Bangalore, is exploring the atrium of Edinburgh International Conference Centre. She is one of the nearly 500 individuals from around the world "who are collaborating across disciplines to spark positive change" as part of the TED Fellows programme. 
 

"It's just a matter of what sparks and informs you and stays with you and resonates with you,"

 
Her 2017 TED Talk, Everyone deserves to be safe, introduced by one of India's biggest stars Shah Rukh Khan, has reached over 40,000 online views. The view counter continues to clock new viewers while Jasmeen experiences TEDSummit in Edinburgh; indicating that another 150 people will have watched her talk before she leaves for the airport. Jasmeen shared her story about street harassment in India two years ago, but the impact of her words is still being felt.
Jasmeen believes the ideas worth spreading that come from a global event like TEDSummit, which has brought nearly 1000 delegates from over 80 countries to Edinburgh, can be carefully planned but the outcomes never too predetermined.
"It's just a matter of what sparks and informs you and stays with you and resonates with you," she muses.
It's the first day of talks and the EICC atrium hums with activity. Local baristas Machina are curing jet-lag with double-espresso flat whites. TED Fellows, TEDx organisers and TED translators have come from Melbourne and Vancouver, Nairobi and Glasgow, to listen to the curators' pick of thousands of new and past TED speakers from around the world, but, as Jasmeen points out, they are also here for the in-between spaces; the encounters that will lead to a new thought, a new initiative or a new friendship.
Johann van Erp is taking note of what he can take back from TEDSummit to TEDxEindhoven. He's also been to Edinburgh before. "I was hitchhiking through the country and this was my final stop. People here are so friendly. We'd only wait fifteen minutes for a ride and then someone would take us to where we wanted to go."
Johann started organising independent TEDx events with a group of fellow students four or five years ago, he recalls. "We believed in the TED philosophy of sharing good ideas. There's a lot of things going on in my city; new technology, new design -so that fits in really well with TED actually." 
First to take the stage during the opening session is an exuberant, kilted figure. "To imagine Mackenzie Dalrymple," states the conference programme, "is to picture all of Scotland in one man". Dalrymple tells the story of one of the oldest flags in Europe, unfurling the saltire in a salute of welcome to everyone in the audience. TEDSummit has come to Edinburgh to celebrate the community that has helped over 5,000 speakers from around the world share their ideas with millions online.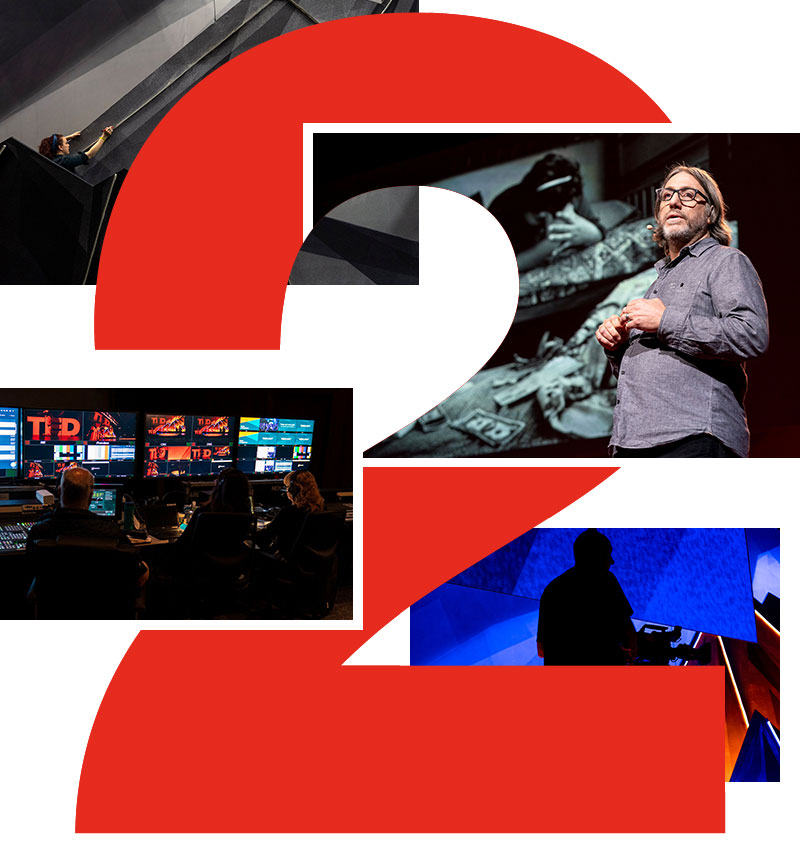 Day Two: TED Fellows & Anthropo impact
The second day of TEDSummit is a dive into some of the most harrowing challenges facing humanity and the planet, but the TED team also aims to stir up ideas for collaboration and positive action; re-sensitising their audience to their own agency as individuals through showcasing what the individual is capable of.  
The scene for day two is set by the TED Fellows speaker session, which emerges as the backdrop to some of the most emotive moments of the summit programme. The audiovisual nature of an event like TEDSummit is on full display in the EICC Pentland Auditorium and award-winning documentary photographer Jon Lowenstein uses this to full effect, as he takes his audience through a series of ethereal black and white images of undocumented Latin Americans seeking a better life in the United States.
These stories of every-day joy and extraordinary heartbreak are followed by an exquisite musical performance from Paul Rucker.
The strings fly from his cello bow in a piece he has composed for an infant migrant who drowned crossing the Rio Grande river. The musical performances which punctuate TEDSummit are vivid reminders that humans have as much power to create, compose and construct as we have to devastate, unravel and deconstruct. 
The second session of talks on day two takes on the theme of Anthropo impact. The session is opened by President of the People's Democratic Party in Bhutan, Tshering Tobgay, eloquently explaining his fears for the fate of his own country and the one in five humans dependent on the rapidly receding glaciers of the Hind Kush mountains. 
Flannery and Warner are both somber but hopeful, as is

President Tobgay, who emphasises that there is hope, if we choose to care enough.
Over to environmentalist and explorer Tim Flannery and climate innovation activist Kelly Warner to propose two areas of scientific and technological research that urgently need investment, but which could change the way we think about solving climate change.
Flannery proposes vast ocean seaweed farms for drawing carbon out of the atmosphere; Warner proposes developing safe aerosols to increase cloud brightening and reflect solar heat, before climate change accelerates beyond human control and towards our own extinction by 2050. Flannery and Warner are both somber but hopeful, as is President Tobgay, who emphasises that there is hope, if we choose to care enough.
Visibly moved, challenged and inspired by the day, delegates head out for the evening to continue their conversations at Edinburgh Food Festival, where they get a literal taste of the city's unique nightlife as it gears up for the 250,000 artists and enthusiasts arriving for the Edinburgh Festival and Fringe.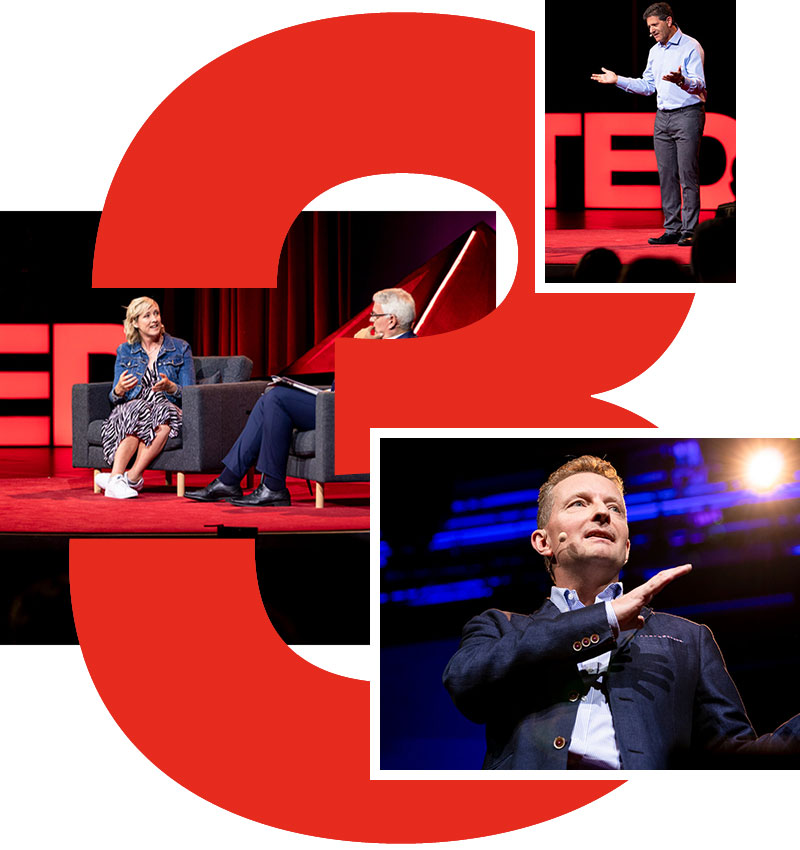 Day Three: The Big Rethink
"We are now the commodity". The words hang in the air during an exclusive preview of Netflix documentary 'The Great Hack'. It's the second Netflix film with material to be previewed at TEDSummit, Edinburgh. The first being the trailer for filmmaker and musician's Blitz Bazawule's upcoming firm The Burial of Kojo screened as part of an audiovisual musical performance.
The screening of 'The Great Hack' and the following discussion with one of its protagonists, Pulitzer-nominated journalist Carole Cadwalladr, leads to new ideas about how the audience can work together for change. The themes for day three of TEDSummit shift from the climate challenge to questions of how we organise our societies, democracies and economies in the digital age.
TED attendee Jake Broadhurst, Head of Global Projects at the University of Edinburgh, is clear that bringing world-class events like this to Edinburgh leads to real projects and collaborations for change. He is one of the people who invited Executive Director of the Global Partnership to End Violence Against Children, Howard Taylor, to speak at TEDSummit.
"Events like this help us think big and they also help us bring together the kind of the people with the power to have a positive social impact on the world, Jake explains.
"We're building new collaborations for high-impact global initiatives, with Edinburgh as their base."
The University of Edinburgh is working with cities in Scotland, the Philippines and Colombia to capture data on the journey of urban areas, as they join global efforts to lower violence against children to zero by 2030. 
"

We are a society of altruists, governed by psychopaths … our task is to tell the story that lights the path to a better world.

"
The evening session of talks on day three introduces many economic themes in harmony with the aims of Scotland's National Performance Framework; namely, the importance of building a globally competitive, entrepreneurial and, above all, inclusive and sustainable Scottish economy, which measures values beyond profit.
The opening speaker, journalist George Monbiot has the audience enthralled as the first of three consecutive speakers to tackle the failings of neo-liberal economics. "We are a society of altruists, governed by psychopaths" he suggests to applause, "our task is to tell the story that lights the path to a better world."
American entrepreneur and billionaire venture capitalist Nick Hanauer, builds on this narrative by stating that "the new economics suggests that inclusion creates economic growth. "The economy is people. The laws of economics are a choice. If we want new economics, all we have to do is choose to have it.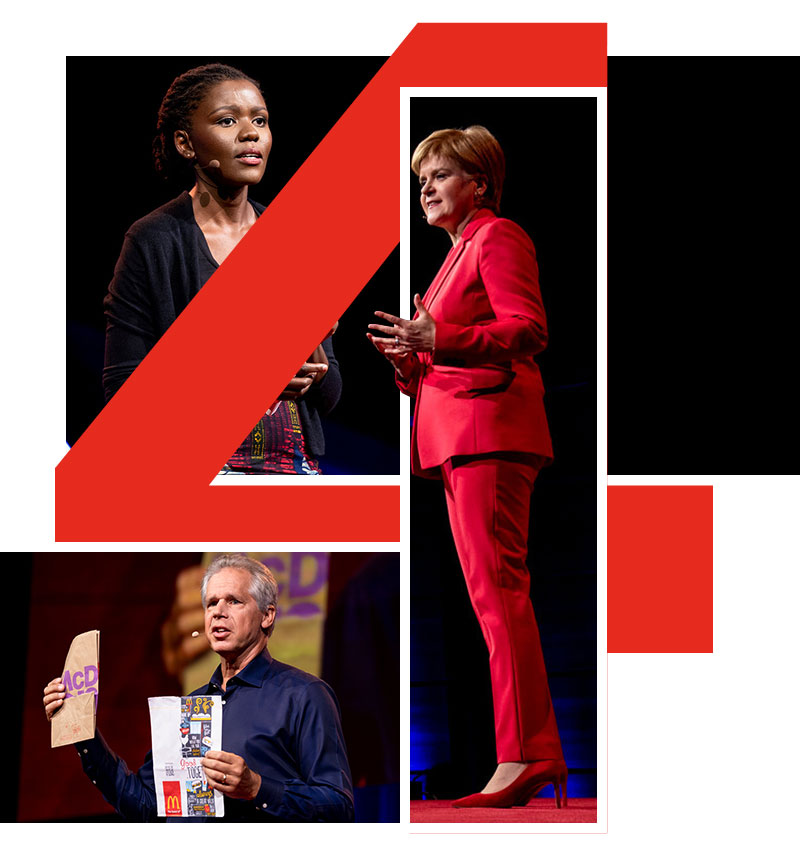 Day Four: Business unusual & Stages of life
The fourth day of TEDSummit is one that pulls together all the themes that have come before. Bob Langert tells the story of how he turned from an activist into "the man" and then back into an activist to help McDonalds reduce 300 million pounds of waste over 10 years.
Violinist Min Kym treats the audience to sounds from the Duke of Edinburgh stradivarius she has been loaned for one week to use for her performances during TEDSummit. With her previous stradivarius stolen years ago and now belonging to someone else, she reflects in an amusing moment about how bittersweet that is. "It's like a past relationship," she says, "the last thing I want to know is how it's doing with someone else". 
A real highlight during the business unusual session is Rose Mutiso of Nairobi, Kenya deconstructing the myths and assumptions around how best to tackle energy poverty in Africa. This is Rose's first time in Edinburgh, she has been nervous about her talk, but enjoying the interesting conversations and connections she is making at TEDSummit.
"It's amazing to have a platform to share my work with the world," she reflects.  
"This is my first time in Edinburgh and it's been lovely. Everyone is really over-the-top friendly, it's been wonderful.
"My father worked at the University of Nairobi when I was a child and once someone from the University of Edinburgh had dinner at our house and they brought a picture book about Edinburgh. Walking around the city brought back that childhood memory."
Later in the day it is First Minister, Nicola Sturgeon, introduced by Head of TED Chris Anderson as "a rare voice of sanity in difficult times", who takes the stage. 
"

When we focus on well-being, we start a conversation that provokes fundamental questions about the kind of society we want to be.

"
Her talk echoes those of the day before; explaining how Scotland, Iceland and New Zealand, known as the Well-being Economy Governments, are working together to measure economic output beyond GDP with an emphasis on the kind of value-creation that promotes the happiness and well-being of their citizens.
"What we choose to measure as a country matters" says the First Minister, "Yes economic growth matters and is important, but growth in GDP should not be pursued at any and all costs. When we focus on well-being, we start a conversation that provokes fundamental questions about the kind of society we want to be.
After a stand-up comedy set by Hollywood actor Omid Djalili and a musical interlude from Scottish singer-songwriter KT Tunstall, delegates continue to network into the evening at an evening reception hosted at the National Museum of Scotland. 
Day Five: Not all is broken
The final morning of TEDSummit talks, before a sun-drenched farewell picnic for delegates in Holyrood Park, is closed by "architect of human connection" Poet Ali.
This is Ali's first trip to Edinburgh from his home in the United States. He's been enjoying morning runs as a way of discovering the city.
"I think you become a better artist, but I don't think you become an artist, you just always have been an artist," he reflects.
"Being an artist, or being a writer, or being a poet isn't about the way you write, but about the way you see. We all see things differently. My journey through the arts started through dance. I was a choreographer for 12 years and now I represent organisations whose causes intersect with mine." 
 

"A lot of the time, healing issues all comes down to connection, to connectivity, and that's what TED is about"
Last year Poet Ali spent three months in Mexico speaking on behalf of Rachel's Challenge, an organisation set up by the parents of the first victim of the Columbine High School shooting that works to reduce violence through education and community intervention.
He believes TED is a great model for people who have a heartfelt mission because it provides a structure for people doing good work to share ideas.
"More than anything, when I'm brought in to speak at different schools and communities, a lot of the time, healing their issues all comes down to connection, to connectivity, and that's what TED is about".