Visionaries
Edinburgh Seven
back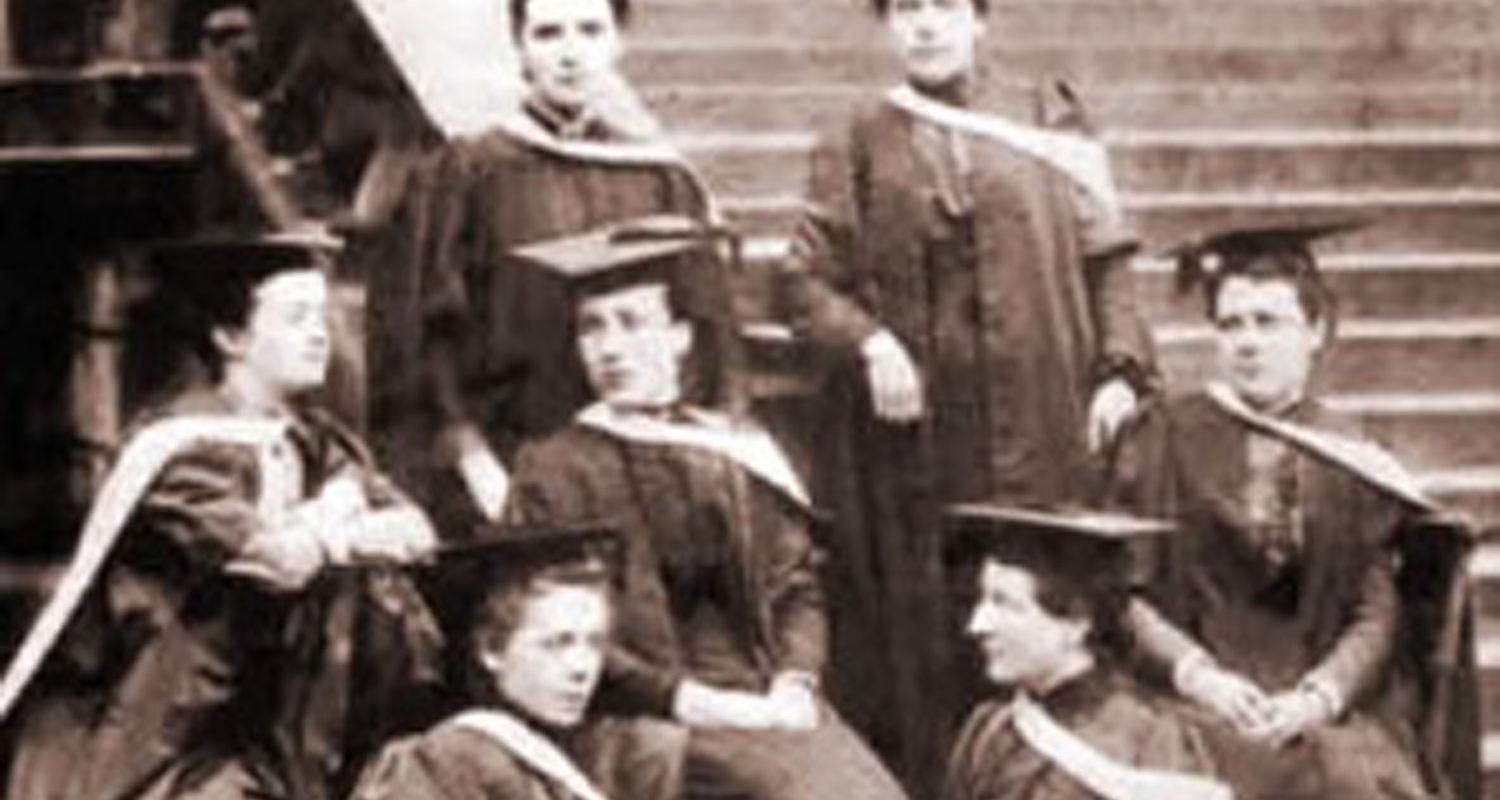 In 1869 a group of women made British history by becoming the first females to study at a university. A feat which was the result of a passionate and determined campaign led by one Sophia Jex-Blake.
Known now as the Edinburgh Seven, these women commenced their medical studies at the University of Edinburgh, during which they undeniably demonstrated that they could compete with their male counterparts.  Sadly, harassment and bullying followed, culminating in the Surgeons Hall riot in 1870. The women arrived to sit an anatomy exam at Surgeon's Hall and were met by over 200 people gathered outside throwing mud and insults. 
The riot made national headlines and despite the support it generated, the University refused graduation to the women by appealing decisions to higher courts. The courts ruled that the women should never have been allowed to enter the course and their degrees were withdrawn.
On Saturday 6 July 2019, 150 years later, this historical misdoing will be corrected when the University of Edinburgh posthumously graduates the seven women. On the eve of their graduation, seven women in our team share and celebrate their own female medical heroes. 
Debbie's Medical Hero: Sophia Jex-Blake
"A fair field and no favour." Sophia Jex-Blake
Sophia Jex-Blake, highlighting that there was no objective proof of women's intellectual inferiority to men and requesting an equal education and the same exams. This was 1869. It's both inspiring and a little heart breaking that the phrase still means so much to us today. 
Sophia's campaign to study in Edinburgh was inspired by Scotland's already enlightened attitudes towards education. Her determination to seek medical training ultimately resulted in the Edinburgh Seven being enrolled at the University of Edinburgh, and following this, in 1877, women were eventually admitted onto degree programmes at other British Universities. James Stansfeld, who had been closely associated with the campaign, wrote, in his brief history of the events - 'Dr Sophia Jex-Blake has made the greatest of all contributions to the end attained'.
Sophia was the first practising female doctor in Scotland. Keen to help poorer women in Edinburgh, she set up a clinic providing cheap medical care for women, and experience for female doctors. This was a first for Scotland. And it was the first hospital for women, staffed by women. She went on to open the Edinburgh School of Medicine for Women. One of the School's first students included another power house - Elsie Inglis - who in turn proceeded to open the Edinburgh College of Medicine for Women. 
I really admire Sophia's spirit and determination. To lead a campaign to allow women access to university education really takes b… bravery! Those seven women put up a real fight. The results of which benefit us all today. Not only allowing brilliant women in medicine and education to flourish but in teaching us all that an equal playing field and equal access isn't just of benefit to women but to us all.
I think Sophia's story is most inspiring, and tells a story of women, and men, fighting for equal opportunities. I am so pleased that the University of Edinburgh will right this 150-year-old wrong, by letting its first female medical students graduate. An opportunity for us to reflect and resist! Keep fighting the good fight folks for 'A fair field and no favour'.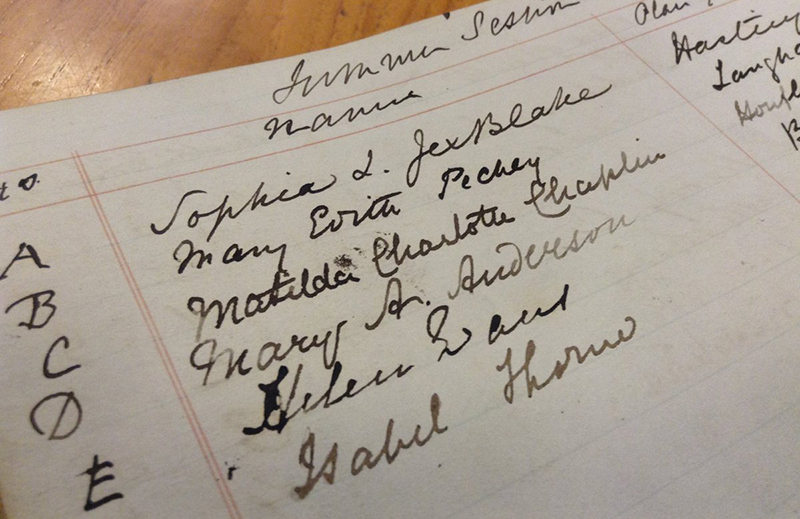 Carron's Medical Hero: Margaret Ann Bulkley (AKA James Barry)
Prior to the Edinburgh 7 pushing through the right to study medicine in November 1869, there was the fascinating case of Margaret Ann Bulkley (1789 – 1865) who throughout her entire adult life lived as a man – James Barry. 
Margaret was born in Cork and travelled to Edinburgh in 1809, disguised as a man, to study medicine at the University of Edinburgh Medical School.  After only 2 years of study, and at the age of 17, James Barry graduated as a doctor in 1812.   
He continued "his" career as an esteemed surgeon in Cape Town and many parts of the British Empire, rising to the rank of Inspector General in charge of military hospitals.   Wherever he went he ensured improvements to sanitary conditions and diet of the common soldiers, as well as slaves, causing friction within his military officer peers.  Barry carried out the first ever successful caesarean section.
Only when he passed away from influenza in 1865 was it discovered that he was in fact a woman.
A truly inspirational woman, who beat all the odds to be a leader in her field.
Amanda's Medical Hero: Dr Rebecca Brachman, Neuroscientist
Looking back, there are many trailblazing women who have led in medicine, with Edinburgh proud to claim several of them as their own, such as Elsie Inglis or Gertrude Herzfeld.
However, I wanted to look forward, seeking inspiration from women who are changing our view of the medical world now and in the future. With this in mind my inspiration is Dr Rebecca Brachman.
With what feels like a global mental health crisis, her pioneering work is in the field of preventative psychopharmacology. Developing drugs that would be the first to prevent psychiatric disorders, rather than to suppress them, by developing resilience-enhancers to stop depression or PTSD before they even occur.
Dr Brachman obtained her PHD in Neuroscience from Columbia University, so my inspiration is from across the pond. But in an ever-smaller world, I hope her work will change the lives of millions of people, locally and globally, in the not too distant future.
If, like me, Dr Rebecca Brachman's story has inspired you, you can watch her TED Talk here #IdeasWorthSpreading 
Morag's Medical Hero: Florence Nightingale
On hearing about the horrific conditions that led to ten times more soldiers dying from illnesses such as typhus, typhoid, cholera and dysentery than from battle wounds, Florence Nightingale led a team of 38 nurses to care for the sick and wounded in some of the worst conditions imaginable during the Crimean War - 1853-56.
This was one of the first conflicts in history involving the use of modern warfare technologies such as explosive shells and included the ill-fated 'charge of the light-brigade' leading to horrendous British casualties.
Yet despite the personal discomfort and very real risk of serious disease and harm to herself, Florence Nightingale gained the nickname of 'The Lady with the Lamp', for her tireless work, compassion and kindness.
Nightingale was also a statistician and revolutionized hospital data collection, whilst bringing honour and respect to the nursing profession and will forever be recognised as the founder of modern nursing.
Jill's Medical Hero: Marie Curie
As one of the world's most famous and inspirational scientists, Marie Curie needs little introduction. She was born Maria Salomea Sklodowska in Poland in 1867, and studied at the University of Paris, where she met her husband, Pierre Curie. 
Together, Marie and Pierre began their pioneering work in radioactivity. But it was Marie who eventually isolated radium, which would later be used to treat cancer.
Marie Curie achieved several remarkable world firsts. She was the first woman to win a Nobel Prize. The only woman to win the Nobel Prize twice. And the only person to win the Nobel Prize in two different scientific fields. 
She worked passionately and determinedly, often in spite of doubt from fellow scientists. And sadly, in the face of tragedy, when Pierre was killed in a street accident in 1906. Working with regular exposure to such high levels of radiation eventually led to her own demise, and in 1934, at the age of 66, she died from aplastic anemia.
"Nothing in life is to be feared, it is only to be understood." Marie Curie
Marie Curie's legacy, however, is still truly alive today. Her revolutionary work has gone on to inspire countless scientists and has saved millions of lives the world over.
Elaine's Medical Hero: Gertrude Herzfeld
Gertrude Marian Amalia Herzfeld is a true Edinburgh medical success story. Over the course of her incredible career she was inducted as only the second female member of the Royal College of Surgeons, the first female paediatric surgeon in Scotland, and the National President of the Medical Women's Association.
Herzfeld's career is intertwined with the city of Edinburgh. She studied medicine at the University of Edinburgh before working as house surgeon at the historic Royal Edinburgh Hospital for Sick Children. "Gerty" – as she was affectionately known – also went on to work at the wholly female operated Bruntsfield Hospital for Women and Children.
Herzfeld, after working with famed surgeon Harold Stiles, became one of the earliest proponents in the burgeoning field of outpatient surgery. This form of surgery would revolutionise the surgical landscape by cutting costs and, in some instances, improve patient outcomes by limiting their time in hospitals.
After her long and illustrious career, Gerturde passed away at the ripe age of 91 in 1981. The British Medical Journal, upon her death, lauded Gertrude as "a large woman in heart and mind". Edinburgh of city council is to honor her by including "Herzfeld" as a street name for future developments in the city.
Lyndsey's Medical Hero: Pauline Howie
From Project Accountant to CEO, Pauline Howie has dedicated nearly three decades of her career to the NHS and Scottish Ambulance Service.  Joining the Glasgow Royal Infirmary in 1992 and progressing her career through various roles within the NHS, Pauline became the first female CEO of the Scottish Ambulance Service in 2009. Ten years on, Pauline's commitment to public service is unwavering, highlighted by the high standards of care delivered by the Scottish Ambulance Service every year with more lives being saved than ever and the Service's role transformed.
Working with over 5,000 staff and 1,200 volunteers in communities throughout Scotland, the Service manages over 1.4 million calls each year, around 765,000 of which are emergencies.  Pauline's strategic direction in delivering a 'person centered, world class service' is shown through improved clinical outcomes for patients, achieved through evidenced led transformation delivery models, significant investment in the skills and development of staff, and new technologies.  The Service is a critical part of the national infrastructure and works across public services, third sector, with industry, patients and the public to create a healthier successful country with opportunities for all to flourish.  
Having received an OBE in 2015, Pauline was most recently recognised as the IoD 'Public Director of the Year' for her leadership of the Scottish Ambulance Service.   She is also Honorary Air Commodore 612 Squadron Royal Auxiliary Air Force and seeks to further develop shared learning and relationships between the NHS and MoD.