Sustainable KPI's
At the EICC our strategic direction is to build on our reputation as a 'green business' and to develop our reputation for best practice in sustainability. We aim to achieve 20% reduction of our overall CO2 per m2 by 2020 relative to 2013 baseline.
The recent review of the benchmark metrics reveal that the business is ahead of a targeted 20% reduction in annualised kg CO2e per m2 by 2020. The actual 2017 outcome was 197 kg CO2e per m2.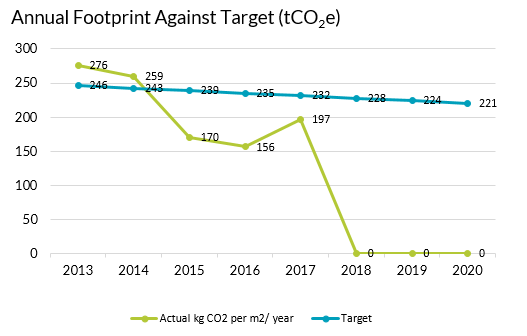 Our new target is a 30% reduction in CO2 per m2/year by 2030 in line with the Global Climate Change Agreement and Sustainable Development Goals (SDGs) to be achieved by 2030.
The number of client events hosted at the EICC increased from 87 in 2013 to 184 in 2017 which is reflected in our energy usage. Energy usage is the biggest factor in the measurement of our overall carbon footprint.  As such, our key focus for future emission reductions will be on energy consumption.  Key to the success of our energy control was the purchase of our new Building Management.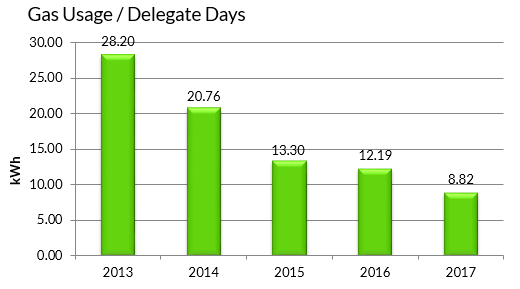 Gas Usage
Overall the 2017 results are extremely positive. We experienced an increase in actual hosted events, and the number of delegate days increased by 70,000 compared to the previous year.
Costs were reduced by £4,000, however the most notable reduction was the 2017 usage per delegate. 8.82 KWH compared to 12.19 KWH in 2016.
Electricity Usage
We experienced a slight increase with our usage and overall cost. Taking into consideration the increased number of events and delegates the overall results is very good. We also had an increase of power requirements for our exhibitions.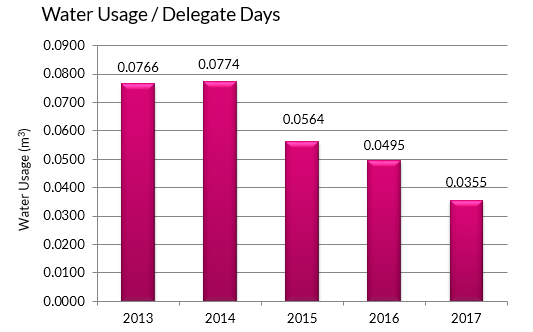 Water Usage
Positive result, the actual usage reduced by 300 m3, and a greater reduction when comparing usage versus delegate day.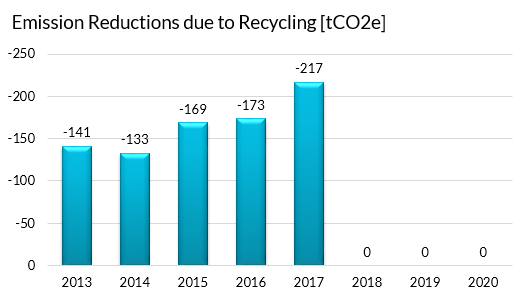 We are continually looking for opportunities to minimise waste, energy and use of resources.  The following 15 elements of our carbon footprint are actively monitored:
Electricity; Gas; Business Travel; Water; Paper Sheets; Paper recycled; Cardboard recycled; Plastic recycled; Cans recycled; Glass recycled; Kitchen oil; Lamps recycled; Dry mixed recycling; Landfill waste; Food waste composted.
Our target is a 2% reduction year-on-year which we have been meeting.  We are now looking at overall food waste since this has plateaued a little.
Food waste from events held at EICC is measured within the potwash/platewash areas once the plates are brought back to the kitchen, whilst staff food waste is monitored in the staff restaurant.  The collected and measured food waste then goes through the following processes: 
Food waste goes through an AD (anaerobic digestion)
Used cooking oil (UCO) converted into Bio Diesel
Coordinate distribution of surplus food to Edinburgh's homeless charities as required by clients
Biodiversity
We strive to minimize significant risks and impacts our event operations may pose to habitats and ecosystems. In managing our impacts, we consider those interrelationships and the functions ecosystems perform in supporting our sustainable events programme. This means that we:
Integrate biodiversity into our business decision-making and management through our Sustainable Events Programme.
Drive and assess our activities, performance relating to biodiversity through the number of trees planted in the Scottish Borders in partnership with the Borders Forest Trust and Forest Carbon and other relevant sustainability projects.
Supporters Comments

"The events industry - requiring as it does people to travel and attend - is one where environmental mitigation is key, and EICC has taken a good lead through its ongoing contribution to habitat creation, in the Borders. EICC supports our large scale native woodland creation programmes, and offers this opportunity to event organisers."
Stephen Prior, Director - Forest Carbon Ltd

"Zero Waste Scotland is delighted that Edinburgh International Conference Centre has contributed to the Hospitality and Foodservice Agreement by reporting its annual waste data, working to reduce waste and maintaining a consistently high recycling rate for food and dry materials.  Its enthusiasm and commitment sets a good example for others in the foodservice sector."
Zero Waste Scotland Spokesperson
"EICC sets a good example for others. WRAP are delighted that EICC has contributed to the Hospitality and Foodservice Agreement by reporting their annual waste data, working to reduce their waste and maintaining a consistently high recycling rate for food and dry materials.  Their enthusiasm and commitment set a good example for others in the foodservice sector."
Katie Haycock | Project Manager | WRAP